Cactus buys second Fujifilm Acuity Ultra
Cactus Imaging has added a second Fujifilm Acuity Ultra to its stable, the eight-colour inkjet grand-format machine joining its existing four-colour-plus-white printer which it showed off at an open house event in February.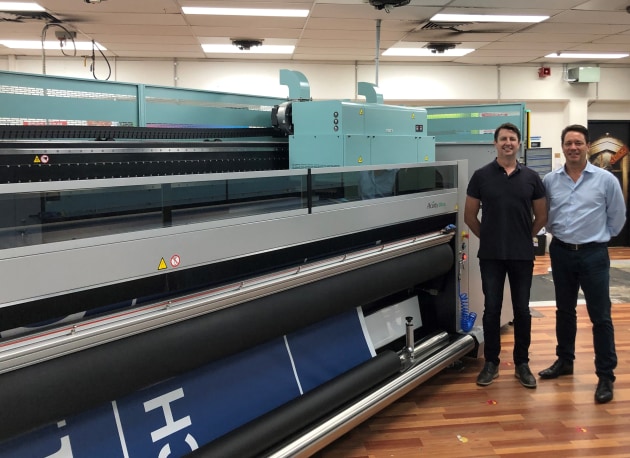 The new machine gives oOh!Media-owned Cactus the same high resolution and quality of its first Acuity Ultra, said Nigel Spicer, general manager, but doubles its capacity and speed by doubling the number of heads.
"We decided to add the new Acuity Ultra on the experience of the first one: the quality, speed, and the ability to print on a variety of different substrates and different elements. It doesn't just do billboards – it does fabrics, self-adhesives, wallpapers and so on.
"We'll use it mainly for billboards and street furniture, but it will also complement the growing market outside of billboards such as high-end retail, commercial design, and window graphics. It's a versatile machine," he said.
According to Spicer, 2019 has been a fruitful one for Cactus, which has a strong market position going into the new year.
"We're really pushing hard and looking forward to 2020. The market seems to be in a good place, and we're anticipating producing a lot of square metres for a lot of different clients," he said.
Cactus installed Australia's first Fujifilm Acuity Ultra printer at the end of last year, which it showed off in February at an open house event in conjunction with Fujifilm Australia and Fespa Australia (then the SGIAA).
The Acuity Ultra comes in 5 metre and 3.2 metre widths, with up to eight colour channels, including white. Ink is a new low film weight Uvijet GS Fujifilm product. Drop size is 3 picolitre, which Fujifilm says delivers the highest quality. It will print at up to 236sqm an hour, or 60sqm an hour in 1200x1800dpi mode.