Central Coast printer upgrades inkjet labels
NSW Central Coast printer SL&CS Promotions has upgraded to a new UV inkjet label press from Screen, distributed through Jet Technologies.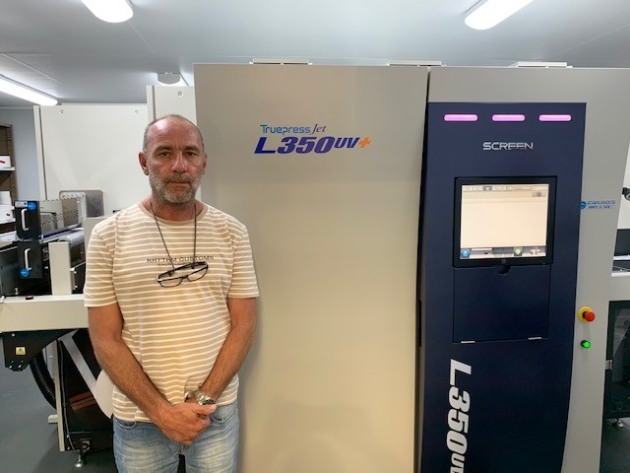 The compnay, based in Charmhaven, had run a UV inkjet press for labels and tags for several years; however, a need for increased speed, reliability, and quality led it to upgrade to the Screen TruePress Jet L350UV+, said Shane Lear of SL&CS.
"I decided to upgrade, researched the different options, and made the call that the Screen machine would suit us the best.
"It's faster and has given us the ability to take on more work into the future. I can get more from it per day – it's increased our capacity – and it's so far proven more reliable. Screen was also more than happy to let me talk to other customers in Australia about how theirs were going before I made the purchase," he said.
The CMYK plus white press operates at speeds of up to 60 metres per minute and can run a variety of materials between 100mm and 350mm. Lear said Jet Technologies and Screen 'couldn't have been more helpful' in getting the press installed.
"The service and maintenance offering has given us peace of mind, and the print definition is much better than our previous machines.
"The service team is in Sydney, and I found that they were a great bunch of guys – everything they said they'd do, they've done. Their attention to detail from the trialling phase right through to installation and training, meant the machine was delivered installed, training commenced quickly, and we were producing work for customers within just two weeks.
"It's nice to work with companies that do not oversell, and that deliver everything that was promised," he said.
The original and popular L350UV has since been joined by the L350UV+, which adds several features including orange ink; and the L350UV SAI, which was introduced at Labelexpo this year.
David Reece, sales director at Jet Technologies, said he was pleased that the due diligence by SL&CS had led the company to the L350UV+.
"Shane at SL&CS got the whole production team involved in the process of evaluating the printing solutions available with Jet Technologies and Screen GP, as it was important that an investment was made in the option that worked not just for the business, but most importantly for those on the ground operating the printer," he said.