Chapel takes most golds at Print Awards
Chapel Press sits on top of the print leaderboard after scoring four golds at last night's National Print Awards, with Rawson Print Co on three golds, and several printers taking two.

Digital Press, AAB and LabelHouse all won two, in a glittering event held at the Waterview next to the PrintEx exhibition showgrounds.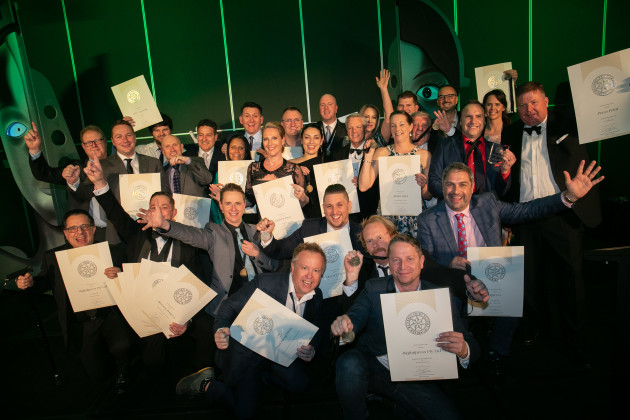 Awards partner Media Super presented two awards on the evening – with Christina Condos winning the Media Super Young Executive of the Year award, and Stephen Penfold winning the Media Super Legends Award.
Notable wins include Press Print, who took home the inaugural International Judges Book Prize.
Presenting Partner for the Awards was Media Super, with Bronze Sponsor Epson Australia, and Awards Patron Ball & Doggett, Australia's biggest printable media supplier.
The evening also saw the LIA Apprentice of the Year presentation, with Jonathan Pitt taking out the title from a strong line up of young people.
Some 74 medals were awarded in total, with the gold medal winning companies moving on to be displayed in Parliament House in October at the second Print2Parliament!, which will again be held on International Print Day, this year on 23 October.
Gold Medal Winners List
Creative Sustainability Award: Impact International Pty Ltd for Margorie, Craig and Sarah Tubes
One, Two or Three Colour Printing including Duotone: Chapel Press, for Grad X Invitation
Leaflets/Folded Leaflets/Flyers or Brochures: Adams Print, for Monash University - Global Executive MBA Brochure
Epson Australia Leaflets, Flyers or Brochures Award: Satellite Digital Pty Ltd, for Martine Emdur Brochures
Presentation Folder: AAB Holdings, for Continental Multi Piece - Trade Activation Kit
Booklets/Catalogues/Magazines (Offset): Rawson Print Co, for Platinum on Peach Tree Book 
Booklets/Catalogues/Magazines (Digital): Digitalpress Pty Ltd, for 21st Biennale of Sydney Book
Annual Report/Prospectus and Yearbooks (Any Format): Chapel Press, for Procurement Australasia Annual Report 2018
Calendars: Fast Proof Press, for 2019 - Over the Hill & Picking Up Speed / Celebrating 40 Years of Fast Proof Press
Book Printing - Offset Case Bound: AAB Holdings, for Stallions 2018
Book Printing - Digital Case Bound: TK Print, for Wool Cool Profile Book
Book Printing - Offset: Ellikon Fine Printers, for LOVE: Art of Emotion 1400-1800
Book Printing - Digital: Digitalpress Pty Ltd, for 21st Biennale of Sydney Book
Book Printing - Digital or Offset: Press Print, for Tram Windows Book
Stationery Suite: Taylor'd Press, for DVP
Point of Sale: Colorcorp Pty Ltd, for Coca Cola Monster Mango Loco Fridge Kit - Backlit and SAV
Direct Mail: Blue Star Print, for New Car Smell
Packaging: Labelhouse, for Jim Beam White Label 3D 700ml
Specialty Printing: Labelhouse, for Jim Beam White Label 3D 700ml
Embellishment: MCC Australia, for The Bond
Labels - Sheet Fed: Advance Press, for Petition Bar Label
Labels - Roll Fed: CCL Label, for Melbourne Helen & Joey Cab Merlot
Self Promotion: Hunter Bros. Printers, for Direct Marketing Piece
Large Format: Visualcom Pty Ltd, for Adelaide Fringe City Banner
Regional/Small Business Printing Awards - Print Business up to 12 Employees: Chapel Press, for Handwerkskunst - Chapel Press Self Promotion 
Limited Edition: Openbook Howden Print & Design, for The Voyage of the Air Warfare Destroyer Program
Branding & Identity (Design): Rawson Print Co, for QT Perth Suite
Books, Brochures and Annual Reports (Design): Chapel Press, for Procurement Australasia Annual Report 2018
Multi Piece Promotions and Campaigns (Design): Rawson Print Co, for QT Perth Suite
Packaging & Labelling (Design): By Ninja, for The LUXE Unboxing Experience
Promotion (Design): Spicers, for Digitac - An Evolution in Grip