COLES LASHED FOR ABANDONING PRINT CATALOGUES
Supermarket giant Coles is copping a widespread lashing for its decision to dump printed catalogues in favour of an online version, stopping Australia's biggest print job, with critics hitting out at both the marketing and environmental rationales.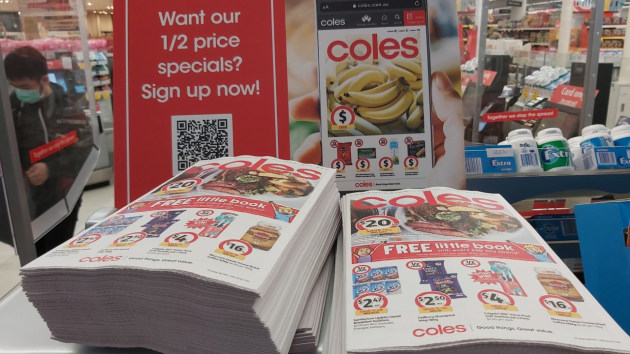 Marketing guru Malcolm Auld called the decision "ridiculous to say the least, and naively woke", and claimed it had been made by a marketing clerk, while Kellie Northwood, CEO at TRMC labelled the retailer's statement that environmental reasons were a driver as "disingenuous".

Coles surprised the industry this week with its decision to cease printing the seven million weekly copies of its catalogue. Its printer IVE will take a $35m-$40m hit from not printing the catalogue. The Coles catalogue job uses 10,000 tonnes of paper a year, and is printed by IVE in Melbourne and Sydney, with its presses producing 10 billion pages a year for the job.

Auld said, "Once again the marketing clerks are letting opinions not facts govern their decisions – a sad reflection on the industry. I suspect Coles has never run a split-run test to see what media channels work best. They've never isolated stores and distributed a catalogue in one catchment area and not distributed a catalogue around another store, to prove the best media usage. They certainly didn't claim so in the announcement about their decision."

He went on to say, "The science of the emotional power of paper over digital channels has been proven. It has to do with how direct mail, for example, makes the content more real to the brain and better connected to memory by engaging with its spatial memory networks. The material generates more activity in the area of the brain associated with the integration of visual and spatial information (the left and right parietals) and the processing of information in relation to the body."

Looking to the future he said, "The pandemic has revealed some massive weaknesses in marketing – with poor quality decisions being made by unqualified marketing clerks. Let's hope the new normal brings back a semblance of commonsense and let the facts, not woke virtue signaling, drive marketing decisions."

Meanwhile, Kellie Northwood lambasted Coles for using environmental concerns as one of its reasons for stopping the printed catalogue. She said, "The claim that Coles is stopping production of its supermarket catalogues due to environmental concerns is simply disingenuous.

"For every Coles customer spending 60 seconds browsing a digital catalogue they will emit 12g of CO2 compared to looking at a printed catalogue for a day and only emitting 0.5g of CO2. All of Coles catalogues are made from a renewable resource, using bio-diverse and planted forestry principles, and the paper making process is powered by hydro-electricity – paper carries the highest environmental credentials over e-waste and CO2 powered digital streaming."

Commenting on the track record she said, "We know that 14.8 million Australians find catalogues to be a helpful shopping tool and, when a catalogue is not delivered in the letterbox, we see an enormous increase in complaints from customers who didn't receive their weekly specials. Who has ever heard of customers ringing up complaining because ads weren't played during the footy or complaining because they didn't receive their marketing email? Brands who move away from media channels that customers see as useful in order to gain greater datasets do so at their own risk."
Malcolm Auld went on to recount the story of Domino's Pizzas, which also dropped its printed flyers a few years ago, and suffered an immediate decline in sales, before reverting back to the catalogues, which it continues to use.
Coles main rival Woolworths says it has no plans to drop its own catalogue, which has a similar run length to the Coles version, although it has dropped its pagination down by 30 per cent since the pandemic, now running at 28pp from 40pp. The Woolworth's catalogue is printed by IVE rival Ovato.