Colour Doctor now G7 Expert
David Crowther, the Colour Doctor of Colour Graphic Services, has attained G7 Expert status, having recently attended the G7 Professional Training course held at Heidelberg's USA headquarters, and organised by the Idealliance and hosted by industry colour legend Don Hutcheson.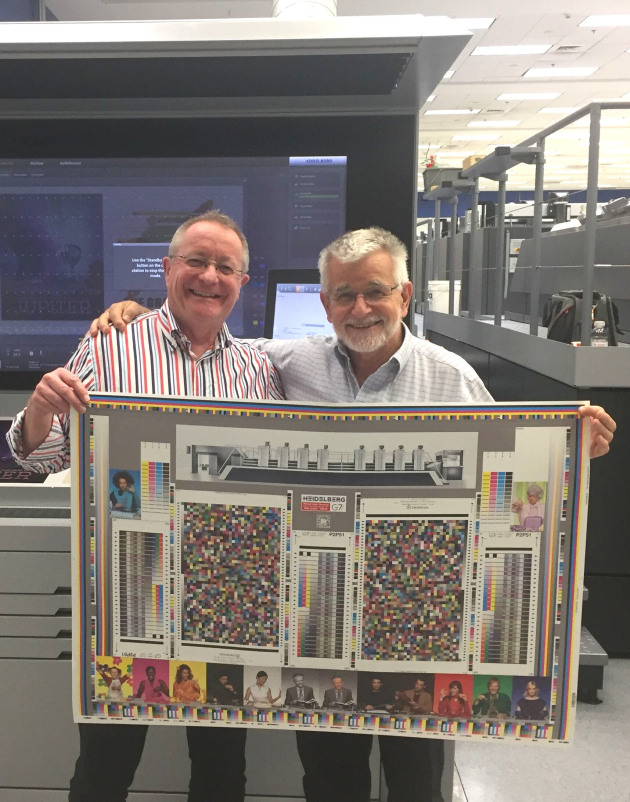 The G7 course at Heidelberg USA was the 150th course, with 28 attendees. The Idealliance manages and facilitates the G7 Master Facility Qualification that allows Print Service Providers to achieve G7 Master certification, a growing global colour methodology that bridges the legacy differences between European and US pathways to ISO 12467 certification.
G7 is a specification that defines a 'common appearance' for printed greys for all printing systems, controlling the two important aspects by which we judge monochromatic images, which are tonality and grey balance. This makes it ideal for aligning print appearance across offset, flexo, gravure, wide format, digital inkjet and toner, dye sublimation – any process. As Crowther notes: "I was trained as a scanner operator, and we always used to say: get the grey balance right and you will be well on your way to achieving excellent CMYK colour quality."
G7 Experts are individuals certified and licensed by Idealliance as proven leaders in print production and global standards to align all proof and print applications regardless of process, ink, or substrate. G7 Experts are taught and certified in substantial cost reductions of production, speeding product to market, significant reduction in waste, extraordinary increase in color consistency - no matter the substrate or print medium, and consistently maintain their client's brand image and print production requirements. G7 colour is now mandated by several of the world's leading brands.
Don Hutcheson - G7 inventor and Crowther's trainer  said, "It was a great pleasure having David Crowther in the recent Idealliance G7 Expert training at Heidelberg, Atlanta. As an expat Kiwi, I'm always happy to get visitors from down-under, even from that little island to the left of NZ.
The fact that Crowther flew all the way from Australia to Atlanta, just to take the G7 Expert training, indicates how important G7 has become as a world-wide standard. Since its inception in 2005, around 5000 printers and pre-press houses globally have become G7 Masters and the number of un-registered G7 users is in the tens of thousands.
Accordinfg to Crowther G7 delivers better print consistency across all print technologies - not just offset - with or without additional colour management.  And it does so with less effort and lower costs than legacy TVI calibration.  G7 makes CMYK files more exchangeable across borders and technologies and makes standardized printing easier, cheaper and more accessible to everyone from creation to output."

Jordan Gorski, Vice President of Global Certification Programs for Idealliance adds: "Idealliance certified G7 Experts support, align, and maintain the highest levels of print quality, color management, and process control around the globe for print service providers, OEMs, creatives, brands, and print buyers. G7 Experts like David Crowther support these members of the print and packaging supply chain by giving them the tools critical for their business performance through added efficiencies, profitability, and continually raising the bar for print production quality and consistency across all print technology."
Crowther explains, "We have been planning this for a number of years now, and it all came to fruition recently, when well-known colour colleague and friend Don Hutcheson hosted the G7 Expert/Professional Training at Heidleberg USA. Don, an expat Kiwi, is the inventor of the G7 specification and method. It was great to learn about G7 from the original source."
A G7 Expert can deliver G7 Master certification for printers, publishers and agencies. The IDEAlliance, a global non-profit think tank, focused on innovation, education, certification and integration looks after and manages the G7 programs worldwide.
Crowther says: "We have always highlighted the importance of grey balance with our tireless work in ISO 12647 implementations with print providers all over Australia and New Zealand. High quality consistent CMYK colour reproduction has always been dependent of grey balance, even going back to the days of camera and drum scanner operators."

"The phone has been running hot with inquiries. G7 Expert consulting adds to our key colour quality products: Techkon precision instruments, JUST Normlicht ISO 3664:2009 lighting and viewing systems, Eizo calibrated monitors, ColorLogic CM & ICC systems, Mellow Colour colour reporting and analysis systems and CHROMAtrain CM training. We believe we have the best-in-class colour solutions to suit any print requirements," concludes Crowther.
Colour Graphics Services is at PrintEx, Sydney Showgrounds this week, stand I11, For the duration of the show only, and orders placed for Techkon colour measuring instruments will attract a 20 per cent discount. Offer ends at 4pm Friday 16 August.