Consumption of catalogues rising
Catalogue consumption rose by 4.4 per cent last financial year, in what industry guru Tim Woods of Pulp and Paper Edge says is a confirmation of the role catalogues play in Australian advertising.
Total catalogue consumption lifted to 7.842 billion units in 2018-19, according to the latest issue of Pulp and Paper Edge. While lightweight coated (LWC) mechanical paper consumption fell 5.8 per cent, it is down just 0.9 per cent per annum over the past decade; Woods said this underscores the importance of LWC paper grades, and supports Norske Skog's focus on paper manufacturing at its Boyer mill in Tasmania.
"In an era when print advertising and media has faced an existential crisis, the last year's result is all the more impressive. The recent year aside, however, the signs have long existed that catalogues are somehow different in the Australian economy, compared with almost everywhere else in the world," said Woods.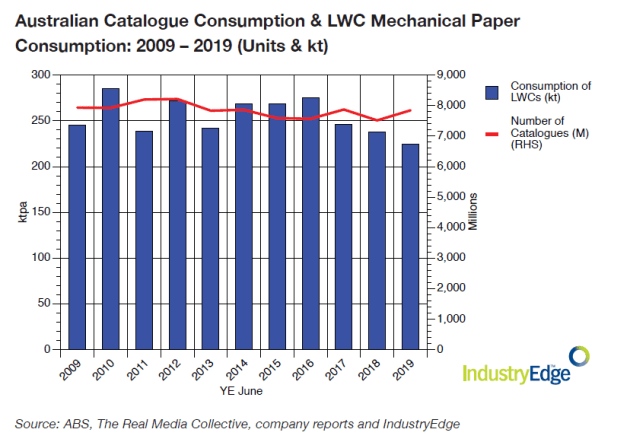 Catalogues have declined over the past decade, though only at an average of 0.1 per cent per annum, while LWC consumption fell to 224.1 kilotonnes last year.
"That is a reasonably large single-year decline, but this grade of paper has proved to be relatively resilient over the decade. Consumption declined an average of just 0.9 per cent per annum, perhaps supported by the strength of catalogues in the Australian market," said Woods.
Woods adds that UK-based forecaster EMGE predicts Australia's LWC consumption to drop an average 2.5 per cent per annum to 2023.
"That will be the lowest of any developed region, and well ahead of Western Europe's 4.5 per cent annual average decline or the average 5.9 per cent fall EMGE forecasts for North America over the same period," he said.
Nominal average weight of a catalogue was 28.6 grams in 2018-19, down 9.8 per cent on the prior year; however, that is still only an 0.8 per cent decline per annum over the decade.
"The relative stability in the number of catalogues being consumed does not appear to be reflected – at least any longer – in the amount of paper being used for them, or therefore, their average weight," said Woods.
Woods suggests that this may be due to a number of possibilities, including average weight of LWC grades for catalogues declining; average number of pages per catalogue dropping; catalogues becoming physically smaller; or other grades such as uncoated mechanical or supercalendered papers being used more extensively.
The IndustryEdge report comes as diversified print and marketing communications business IVE spends $25m to acquire Salmat's catalogue distribution business, and rival Ovato is about to officially open its Warwick Farm supersite. For both IVE and Ovato catalogues are a major part of their businesses.