Covid-safe plan: What it is, how you do it
All print businesses in Victoria now need a to Covid safe  stay open, and it must be in place by 11.59pm this Friday. The government is implementing a plan for businesses to follow – so what is it, and how do you do it?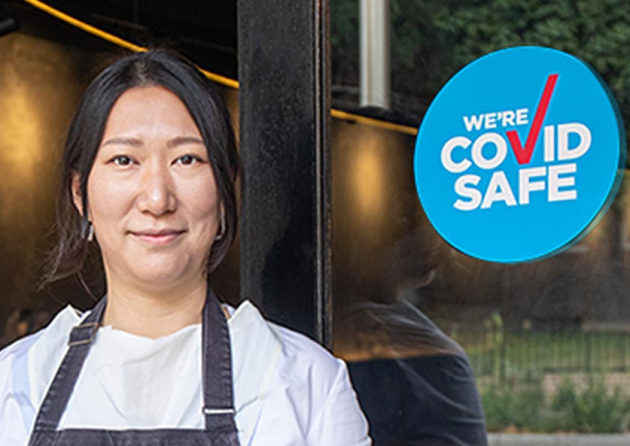 Failure to instigate the plan and keep to it while trading will result in severe penalties.
The Covid-safe plan requires a business to have appropriate hygiene in place, to have a contactless system for interaction with external visitors, to have no more than one person per every four square metres of the premises, to require staff to wear PPE, with masks and gloves as a minimum, to maintain 1.5m distance at all times including meal and coffee breaks, and to keep a record of all staff and visitors on the site for the previous 28 days
THe plan also requires appropriate signage to be displayed, , and for the employer to share the Covid-safe plan with staff, and to keep a record of when you did that, and to keep up to date with all ongoing requirements. Full details available here.
In addition, any staff member that travels to work must be in possession of a permitted worker permit, available here, stating the details of the employee, the details of the business, and details of the job, which must be one that cannot be carried out from home.
Under the Stage 4 restrictions, workplaces that remain open must:
* Have a Covid-Safe Plan in place that is regularly updated (unless you are a small business with fewer than five employees)
* Ensure that any workers who can work from home are able to do so
* Collect records of all workers, subcontractors, customers and clients attending the work premises for 15 minutes or longer (certain exemptions will apply)
* One worker per four square metres of enclosed workspace or in shared areas
* Unless an exemption applies, ensure that workers do not work across multiple sites, or for multiple employers
* Ensure that workers are in good health - workers cannot work if they are unwell and employers must not require workers with symptoms to work
* If your worker is unwell, send them home and direct them to be tested. They must stay home until they have their result
* Report any positive cases of coronavirus (COVID-19) to DHHS, Worksafe, Health and Safety Representatives, and notify your workforce
* Regularly clean your facilities, shared spaces and provide additional cleaning supplies
* Undertake risk assessments for cleaning and the potential closure of your workplace in certain situations