drupa Spotlight reports challenging conditions
The latest drupa global Spotlight report says a survey of printers and suppliers revealed challenging conditions – and that was before the impact of the coronavirus.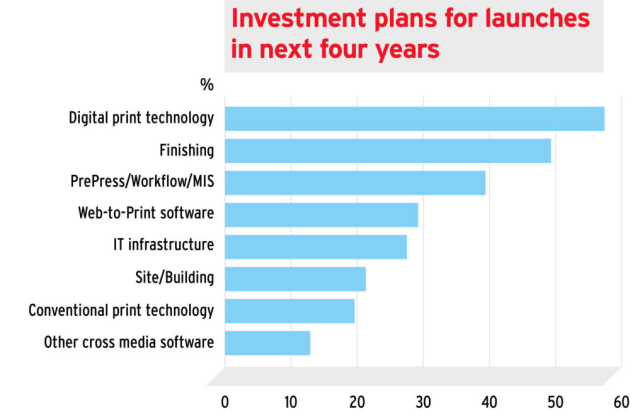 However, the report said printers are adapting to the challenging market conditions by launching new products and services.
This year's drupa Spotlight report, Strategic choices in a competitive and converging marketplace, will be published in May. It surveyed 500 printers and 200 suppliers, and described the challenges and successes of launching new products and services.
It says for many in the industry, planning their recovery from the coronavirus recession may well necessitate such launches, "so lessons must be drawn on how best to do so."
According to the report, three out of five printers launched major new products or services in the past four years into their existing markets. About half the launches were successful, with only a handful going badly wrong.
Diversifying the range of products and services, and gaining new customers, were chosen as the top benefits. As for the drawbacks, most reported that the launches sucked in far too much staff time and other resources, and often ran well behind schedule.
Around three out of every ten printers had launched into new market sectors. This is clearly a more difficult challenge and the results reflected that, with around 40 per cent of the launches going well, compared with 54 per cent for existing markets.
Before the coronavirus outbreak, 76 per cent of printers and 85 per cent of suppliers were either definitely or possibly launching new products or services in the next four years. Clearly that will mean investment, with digital print technology, followed by finishing solutions, being the most popular targets for printers.
The report will draw four key lessons on how best to succeed when launching new products or services:
Launching new services and products needs proper well-prepared processes.
Careful selection and development are essential – no knee-jerk reactions.
Plan conservatively – expect delays and complications.
Manage your expectations – be realistic.
The full report in English will be released by the end of May and available for sale on www.drupa.com. The executive summary will be available for free.