Durst makes mask IP available
Digital print solutions developer Durst is releasing the IP on the masks to its Rhotex users around the world, including those in Australia. It has been producing masks in its demo centre at its Italian headquarters, using its filter technology developed for its inkjet presses.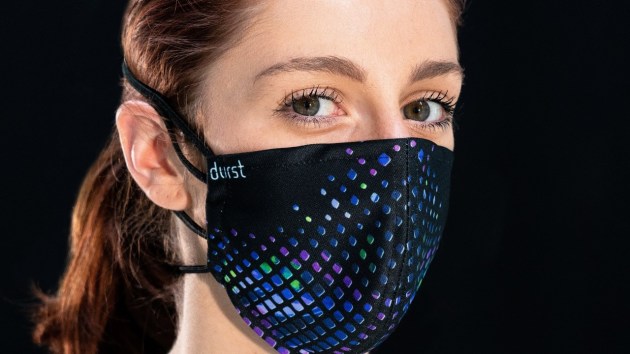 Matt Ashman, managing director of Durst Oceania said, "Durst is making the IP available, and will supply the filters. The masks and filters are reusuable."
Some European countries are mandating the use of masks in certain environments, notably on public transport, but there is no such requirement in Australia and New Zealand.
Filter systems that take on a type of cleaning function in the printing press to filter out microparticles in the ink supply systems so that print heads do not become clogged have been adapated by Durst. Durst laboratories subjected the filter membrane to a detailed effectiveness test. Durst also said it would verify the measured values with an independent institute.
THe masks are essentially two parts, the textile printed mask itself, and the fiulter which slips into a pocket inside the mask. Both can be cleaned with IPA products and reused.
"At the beginning of April, our printing technologies for the label and packaging industry were classified as systemically relevant and we were able to go back into partial operation," Christoph Gamper, CEO and co-owner of Durst Group, said.
"Now we will also use our textile printing and processing systems, which are located in the demo centre for customer demonstrations, for the production of masks. In line with our 'pixel-to-output' strategy, production takes place digitally and fully automatically.
"In a web shop with a specially programmed editor, the masks can be individualised with graphics, images, and text. Our workflow software then sends the designed file directly to the printing machine, and then the printed material is processed by a cutting system. The announcement of our initiative on social media alone has generated great demand and print service providers worldwide are adapting our concept and thus Durst technology for their productions."
The masks produced by Durst have an efficient filter membrane, while at the same time provides good air permeability. The community masks have a three-layer structure. The polyester fleece textile materials are comfortable to wear, and they are washable. The filter membrane can be disinfected with alcohol and reused.
Durst points out that this is not a protective equipment in accordance with VO (E) 2016/425 or a medical device in accordance with Directive 93/42 /EEC.
VergissMeinNicht, a social co-operative in Bruneck that gives young cross-border workers and people with disabilities a place to work, will be partnering Durst for processing and assembling the masks. Under the motto "appreciation and added value", the specialised sewing service finalises the masks in a protected environment. It also focuses on sustainability for packaging.
The masks can be obtained via the company Kunst & Dünger Solutions (www.maskenmacherei.online) – personalised and up to a print run of 300 pieces. For larger quantities or inquiries about pixel-to-output software and hardware solutions for production, please contact: protection@durst-group.com.