Epson printers win design awards
Epson's new 24" dye sub SureColor F560 has won a Good Design Award, as have the new 12-colour SC-P7560 and SC-P9560 roll-to-roll printers.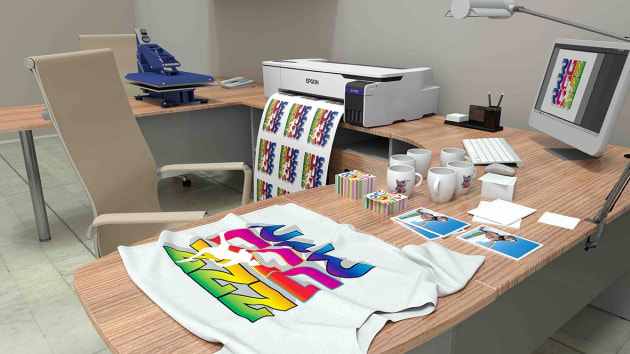 The 24-inch F560 dye-sublimation printer ships as a package complete with ink, media, and software. Designed for small business and fine art applications it combines compact size with high format flexibility, and a low cost of ownership.

The SureColor SC-F560 joins Epson's extensive F-series range. Designed to replace screen printing, Epson says "these simple, efficient, and easy to use machines work in conjunction with a heat press to enable production of a wide range of durable items from metal signage and photo prints to soft signage, custom cabinetry, clothing, décor, and merchandise".
The SC-F560 is aimed at promotion and fine art applications. Designed for low volume and ad-hoc work, it features flexible media handling and a tank ink system and produces images that are bright and colourful, in super-high 2400x1200dpi max resolution. It uses what Epson says is cost-effective ink, and will ship as a complete package.
The 24" SC-P7560 and 44" SC-P9560 are the first 12-colour printers from the industry's colour inkjet specialists, and cover. 99 per cent of the Pantone gamut, with increased speed and lower running costs.
Patrick Howard writes: Epson has now joined the ranks of ultimate high-end repro with the launch of its first-ever large-format 12-colour printers. The new 24 inch (60.96cm) SC-P7560 and 44 inch (111.76cm) SC-P9560 have a new PrecisionCore print head and an upgraded UltraChrome ink set that includes three levels of black along with orange, green and violet.
Epson has long been the brand of choice for professionals in graphic design, packaging, and proofing. Predictability and consistent print quality are key, as is the ability to work with a colour-managed workflow. The SC-P7560 and SC-P9560 are likely to only reinforce the brand's position in the top end of the market.
The new printers can output an A1 image at the highest quality in 90 seconds. There are three different levels of output – draft, production, and quality – with varying speeds. Aimed at the print-for-pay market, the SC-P range can be operated with the LFP Accounting software that calculates the amount of ink and the substrate coverage to deliver a cost per image. This allows printers to ensure that they charge appropriately.
The new models have a new Precision Core printhead that is over more than two and a half times wider than its predecessor with dedicated channels for every ink and 800 nozzles per colour. Supported by improved half toning and feed management systems this gives extremely accurate reproduction at speeds up to four times faster than previous generations and two times that of others in the class.
The Good Design Award was established in 1957 as the Good Design Selection System (or G Mark System). Today, it is a leading design evaluation and commendation system and has become world renowned, attracting a large number of entries from companies and groups around the world. Awards are presented annually as a way to promote quality of life and the use of design in solving social issues. The symbol of the award, the G Mark, is widely recognised as a symbol of excellence in design.