Fears over zombie businesses
With company collapses at an all-time low, there are fears that JobKeeper, Covid commercial leasing rules, and creditor limitations are opening the way to unscrupulous operators taking advantage of credit lines, and also to unsustainable pricing pressures in print.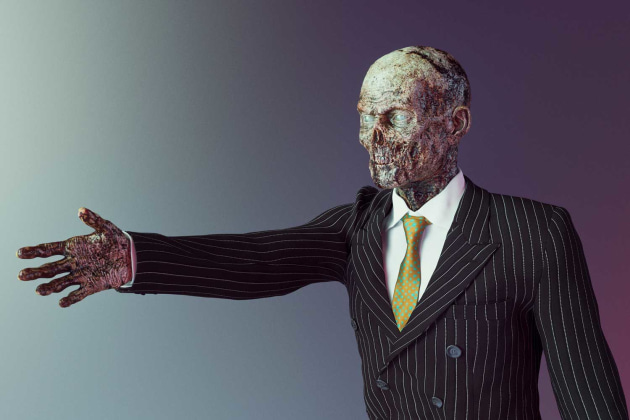 Keeping businesses on life support is paving the way to so-called zombie businesses, with what critics say are insolvent companies, but who are using the extra time to run up debt, sell off assets, and compete unfairly in the market with low prices to draw in what revenue they can.
Zombie printers can lead to a drop in print prices to unsustainable levels as they seek out whatever cash they can get. At the same time, unscrupulous zombie print customers may be using the Covid legislation to shield themselves from paying bills, as they can now have six months rather than three weeks before creditors can force insolvency action.
Since the onset of Covid, virtually no print business has hit the wall. Many have been kept alive thanks to the $750 a week the government has been paying all staff, with the relaxations in the need to pay full rates for commercial leases, and the limits on creditor actions. Across the economy as a whole, industry figures reveal the full extent the government support is having on business, with only 510 companies in Australia becoming insolvent in June, compared to 1134 in the same month last year, when there was no Covid and no recession.
Usually in a recession, businesses of all kinds – including printers – would be dropping like flies. But his time around, the opposite has been true, with the workloads of administrators and liquidators far lighter than even a normal period.
Among the big names in print, only Bambra Press and Direct Mail & Marketing have hit the skids, with both able to trade on as the administrators look to sell the businesses. Many print businesses should by rights have gone given the dramatic fall in sales, but are being kept alive by the government's life-support stimulus package. And while most are waiting for an upturn or are pivoting into new areas, there are fears unscrupulous operators could damage the market, and unscrupulous customers could string printers along for payment for six months, until they go broke.
Now there are calls for the government to drop many of the 80 or so temporary regulations that limited the amount of conditions with which creditors could initiate insolvency proceedings, and increased the time limit on statutory demand for payment from three weeks to six months. The regulations are set to expire on 25 September.
Among those pressing the government to be mindful of the developing situation is Patrick Coglan, CEO at CreditorWatch, who said, "The number of zombie companies – those being kept out of administration artificially – continues to grow, and policy makers need to consider the gradual easing of measures to ensure good money is not being thrown away on bad companies."