Fespa launches content rich programme for Madrid
The Fespa organiser says visitors to the wide format Global Print Expo 2020 in Madrid next March will discover a content-rich event, including a programme of features "designed to inform and inspire in equal measure".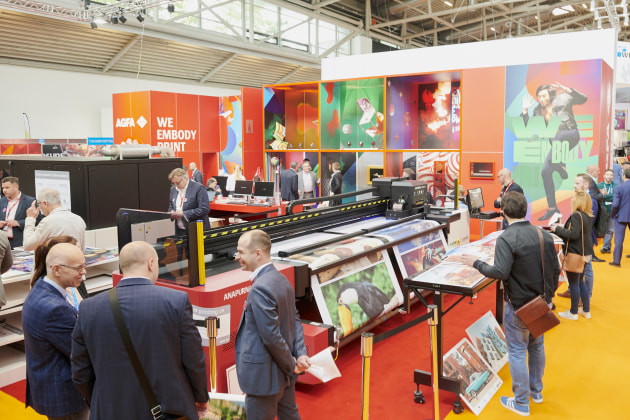 Neil Felton, Fespa CEO, explains: "Fespa was founded with the principal aim of sharing knowledge within a global community of speciality printers. These businesses are operating against an ever-changing landscape of developing technologies and evolving customer needs.
"With that in mind, we are committed to delivering a wide variety of insightful content that gives visitors an overview of the current opportunities, and helps them to explore potential paths to business growth. That is why we invest in refreshing and energising our features year on year, to ensure that our visitors get the complete experience they come to expect from Fespa events."

Following a successful debut at Fespa Global Print Expo 2019 in Munich, Colour L*A*B* will return to the event in 2020. Colour L*A*B* will offer visitors a comprehensive overview of all individual elements that contribute towards professional colour management, such as measurement and calibration tools, lightboxes, software solutions, and print output devices.

This year's edition of Colour L*A*B* will focus on a range of topics of interest in colour management – including device profiling, process control, as well as proofing and standardised viewing conditions – which will be tackled by a number of subject matter experts. One of these will be respected colour management consultant Paul Sherfield, who led the 2019 programme and will provide valuable insights, answering visitors' questions on how they can improve their own practices.

With colour management being a dominant trend in the wider print industry, and Where Colour Comes Alive as the official strapline for Fespa Global Print Expo 2020, Colour L*A*B* is set to be a key attraction in Madrid.

Directly adjacent to Colour L*A*B* is the Fespa 2020 Trend Theatre, where a wide range of seminars and panel discussions will give visitors a great opportunity to increase their industry knowledge and find inspiration for new business prospects.

The Trend Theatre programme features 40 sessions, compiled, says, Fespa with the needs and interests of the Fespa global speciality print community at heart. With an expert speaker line-up from organisations including Fogra Research Institute, global data leaders, Keypoint Intelligence, and Spanish language sessions from Fespa España, the programme will deliver key insights on a wide variety of topics. These will range from workflow automation and colour management to DTG printing and sustainable practices, while also providing an overview of the current market trends in all areas of specialist print.

The seminars are free to attend for anyone holding a valid Fespa Global Print Expo, European Sign Expo, or Sportswear Pro entry ticket.

Printeriors is an interactive feature highlighting the multiple opportunities for printers of interior and exterior décor, connecting brand owners, designers, and architects with PSPs and manufacturers.

Tying in with the show's 2020 location, the Printeriors design will combine video and photographic imagery of the Madrid Royal Botanical Garden, providing an immersive experience for visitors. Once again, Fespa is collaborating with illustrator Jasper Goodall on the designs for the Printeriors applications, which will use a mix of sustainable fabrics and materials.

Fespa's fast fashion factory feature Print Make Wear is back for 2020, this time with a focus on sportswear manufacturing. Linking to the co-located Sportswear Pro event, Print Make Wear will recreate the live end-to-end production process for sports and athleisure garments, starting with planning, design, and prepress; progressing to printing, drying, cutting, sewing, welding, and embellishment; and finishing with packing and retail display.

This year's edition includes two workflows. The first one features two ordering kiosks, where the visitor will be able to customise a men's running shirt or a women's racer back vest. The second workflow will run from design software to nesting and production layout, through roll-fed dye sublimation printing onto polyester, before moving into calendaring, laser cutting and sewing. This workflow will produce samples to be displayed on a rail or worn by models on the Print Make Wear catwalk.
Fespa's popular, high-energy World Wrap Masters vehicle wrapping competition will also return to Global Print Expo 2020, with reinvigorated displays and a new scoring system. The competition will be hosted by wrap expert and veteran judge Kiss Lajos, alongside Justin Pate and Carlos Ruiz, while Ole Solskin Ravn will join as guest MC.

This year sees the introduction of two new categories, Wrapping and Printeriors, bringing the total number to 18. The confirmed judges for the Fespa Awards are Josep Tobella (Serigraphy Professor and Consultant), Jacek Stencel (Owner & Founder of Pasja, screen and digital printing company), Debbie McKeegan (CEO of TexIntel), and Fespa's head of Technical Support, Graeme Richardson-Locke.

Neil Felton concludes: "Our insights from previous events reinforce the notion that print industry professionals are continually looking at new openings and ways to grow their businesses. We're confident that the wealth of content that is being generated for our 2020 feature programme will give visitors plenty to explore to increase their knowledge and seize new opportunities."