Governor lauds LIA Visual Connections prizewinner
Nicole Danger, the winner of this year's LIA National Graduate Scholarship Prize, has been recognised by The Honourable Linda Dessau AC Governor of Victoria and Anthony Howard AM QC at a reception this week at Government House in Melbourne, convened to celebrate Women in Trades.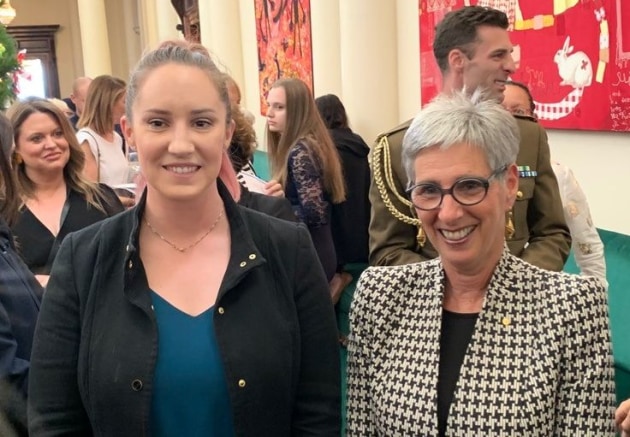 The invitation to attend last night's celebration was extended following the recognition of Danger's achievements at the LIA Awards, where she awarded the Visual Connections LIA National Graduate Scholarship Prize. She will use the $5,000 study grant to travel to Packaging Premier, Milan, and Luxe Pack, Paris, in May next year.
Danger is keen to contribute to the promotion of trades and, in particular print, to other young women. She said, "It is a real honour to represent our industry, and in particular its women, at this event.
"In an industry which is still quite male-dominated – although print is now far more evenly balanced than many sectors – recognition from the governor for women in trades is an important step towards raising the profile, not only of trades as a viable and exciting career option for women, but of the breadth of opportunities in the print sector."
A press operator at multi-award winning Chapel Press, a leading letterpress print shop known for its focus on quality craftsmanship, Danger is passionate about print and the career opportunities it offers, particularly for women.
"When I was at high school, print was never even mentioned as an option – it simply wasn't on the radar, particularly for girls," she says.
"Once I discovered the industry, though, I was instantly drawn to the potential of letterpress to provide beautiful solutions for short-run, high-end work. When people see, touch and feel a superbly crafted job, it literally leaves them speechless; that's something special. And, because so much of the quality of the work in letterpress comes down to the skill and craft of the operator, it's always a challenge to achieve excellence. I take real pride in that."
Danger is well down the road of planning her big trip next year, courtersy of the $5000 prize from suppliers association Visual Connections and the Lithographic Institute of Australia.
She said, "I am already finalising my travel plans for the shows, and looking into site tours and work experience opportunities to further my knowledge and expand my skill set.
"Some of the companies I am talking to produce multi-level embossing and other absolutely stunning work, and I can't wait to bring new ideas and techniques back to Australia to create interest and excitement for our clients and the industry."