Guru Labels prints against virus spread
In this time of pandemic, printers such as Guru Labels are adapting to the shifting business environment and helping in the fight with the coronavirus at the same time.
Guru Labels has come out with a range of self-isolation and reminder signage with messages, and it is instrumental in producing medical face shields in collaboration with the University of Newcastle.
Nick Lowe, director at Guru Labels, said the range of Covid-19 signage the company is making is comprehensive.
"These sings are not only for social distancing, but we've also got wall decals, and a range for kids that, for example, help remind them to wash their hands," he said.
Lowe said the idea for the signs came about because of a concern for his elderly mother.
"She is 86 years old, and not in the best of health, and this disease could knock someone like her over," he said.
"She's been isolating in her house for the past three months, if anyone wants to visit, they have to stay outside. My concerns were how do you stop people from coming into her home and dropping off parcels, or prevent friends and family from just dropping by – we needed a range of signs that say, 'don't come in'.
"Now, we're selling these signs that can mitigate risks. Anyone can put these signs outside their house that say we're self-isolating and to keep possible carriers away – anyone could be a carrier of Covid-19."
In addition to printing signage, Guru Labels is in a partnership with the University of Newcastle to help produce face shields, which are important personal protective equipment (PPE) for medical and health workers.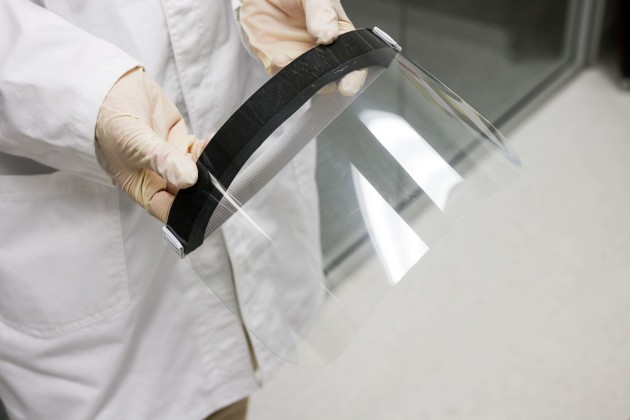 Lowe said Guru Labels makes its GM machine and laser-cutting technology available to the university to help make the shields.
"The orders are coming in fast now for the face shields, and we're helping them make critical components so they can get out to market," Lowe said.
Professor Paul Dastoor, director of the Centre for Organic Electronics (COE) at the University of Newcastle, said the chosen design for the shields is simple and fast to assemble, and the team was already able to generate hundreds per day. They are being distributed inn our region and beyond.
While the COE team is well-versed in the development and production of advanced medical devices, the rapid manufacture of medical PPE was new to them.
"We had stocks of PET available for us to use in the production of our printed solar panels," Dastoor said.
"As a result of the scoping work done by our colleagues, we were able to tap into the collective expertise of the university, connecting with fellow researchers to arrive at a prototype we knew we could manufacture rapidly.
"Industry partners were also quick to support the cause, with Guru Labels on the Central Coast laser cutting the PET in bulk, and the Australian National Fabrication Facility team based at the university contributing to the build of the shield assembly line.
Dastoor said the project showed a community rallying together to contribute what they can in this crisis.
"The beauty of this kind of effort is, now we have a model we know addresses the needs of those on the ground, we've been able to collaborate to make the production process even faster," he said.