Heidelberg brings in robots and Push to Stop folding
Heidelberg is launching robots and Push to Stop for its Stahlfolders, which it says increase efficiencies and address high labour requirements.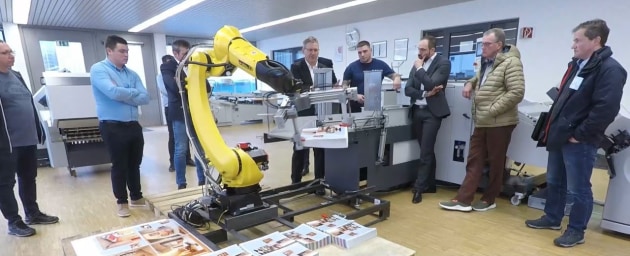 Robotics: The Stahlfolder now available with robots for delivery stacking
"In commercial printing, the postpress department accounts for the highest personnel costs at typically around 60 per cent," explains Jörg Dähnhardt, head of postpress business management at Heidelberg. "That's why we have put the focus here on integrated automation, like for instance with Push to Stop technology for the folding machines, in order to reduce makeready times and increase productivity. Likewise, with the Stahlfolder P-Stacker robotic system, we increase the flow of materials and reduce the workload of the operator."
At the delivery end of a high-performance folder the operator at a folding machine stacks around seven tonnes of paper on the pallet each shift. The packages can weigh up to eight kilograms and arrive at a rate of up to five per minute. In practice, this physical stress results in either the machine speed being deliberately reduced, logistical interruptions, downtimes being used as a break, or more pairs of hands being needed.
The new Stahlfolder P-Stacker, a robust, six-axis industrial robot that gently and securely grips and places down the signature pile using sophisticated gripper technology, now provides assistance here.
The robot uses the full size of a Euro pallet. The Stahlfolder P-Stacker, for example at a Stahlfolder KH 82-P, ensures says Heidelberg high productivity and efficiency in the folding process, reduces the operator's workload, and provides breathing space for additional activities such as quality control. First deliveries are planned for October this year.
At drupa 2016, Heidelberg presented its innovative Push to Stop concept for the Speedmaster printing presses. It hit a nerve in the industry and, with numerous installations since, wide approval. Push to Stop will now also be available for the Peak Performance folding machines.
With autonomous signature production, users can take the first step towards autonomous production in postpress. The target group is printers and finishers with frequent changes of content and short runs. This is possible on the Stahlfolder TH/KH 82-P and TX 96, which gain significantly in productivity as a result, while the operators can focus more on the quality of the folded signatures.
With Push to Stop, the different signatures no longer have to be separated by means of separate pallets or paper markings, instead they are processed one after the other. The system is based on two components: a barcode printed on the signatures as well as an integrated camera system in both the PFX feeder and the palamides Alpha delivery. Production of the next signature then begins autonomously without active intervention by the operator. Mixing of the different signatures in the delivery pile is prevented by the barcode.