Heidelberg provides World Skills technology
All the print equipment and almost all the consumables for the WorldSkills tournament in Russia that has just taken place were provided by Heidelberg, as part of its promotion of print to young people.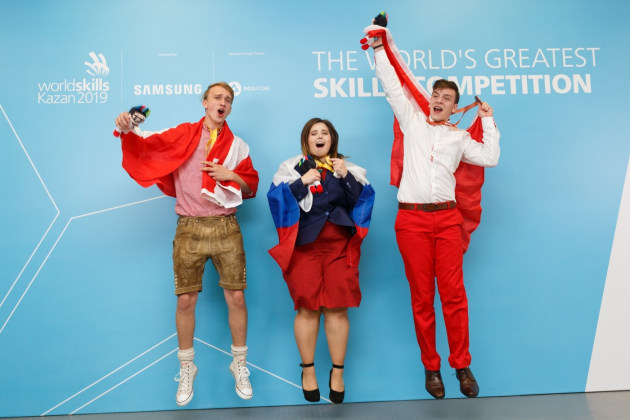 Mona Vale print business Style Communications saw its graphic designer Indy Griffiths take part in the event along with other Aussie youngsters, with the team placing eighth overall and Griffiths winning a medal of excellence.
In the Print Media Technology skill, 15 participants from 15 countries put their talents to the test. Heidelberg supported the skill with manpower and machines. The equipment, consisting of three Speedmaster SX 52 presses (two four-colour and one two-colour), two Versafire EV digital printing systems with the Digital Front End, a Suprasetter A75 platesetter, and a Polar cutting machine, was provided by Heidelberg. Some 90 per cent of the consumables required, such as ink and paper, were also provided by Heidelberg.
Kazan, situated 720 km to the east of Moscow, welcomed 1,350 young skilled workers – the highest number yet – from 63 countries competing in a total of 56 disciplines in the 45th WorldSkills competition.
Russian President Vladimir Putin acknowledged the achievement and significance of WorldSkills in his speech at the closing ceremony, which had 35,000 guests.
An almost equal score resulted in two gold medals in the Print Media category: one for Austria's Christof Babinger and one for Russia's Elizaveta Stepanova. Bronze went to Switzerland's Dario Colucci. A Medallion for Excellence was awarded to the German competitor Jessica Sturm, who won WorldSkills Germany in the Heidelberg Print Media Centre in Wiesloch at the end of 2018.
The next WorldSkills will take place in Shanghai, China in 2021, a location where Heidelberg has its own factory and manufactures printing presses. In 2023 it will move to Lyon, France.