High speed AB Graphic to finish HP Indigo V12
AB Graphic International (ABG) will provide Digicon Automation modules to deliver high-speed finishing in both nearline or inline configurations for the new high speed HP Indigo V12 Digital Press.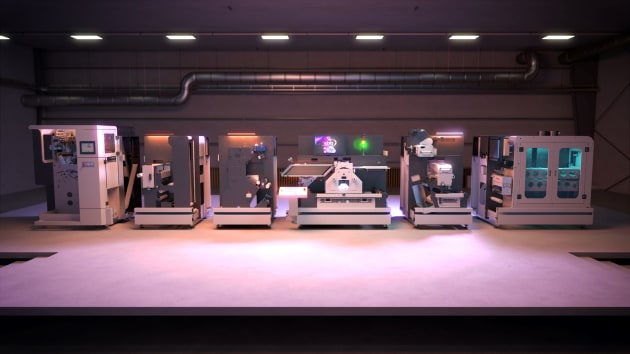 The new ABG Digicon Series 3 modules are being developed especially for the newly announced HP Indigo V12 Digital Press, which runs at 120 metres per minute. All modules focus on automation, allowing for continuous production, while promoting quality and efficiency.
The HP Indigo V12 Digital Press for labels is the first HP Indigo based on next-gen LEP architecture. The press prints as fast as analogue at 120mpm, creating new opportunities for digital label production. It is scheduled for release in two years' time.
The integrated modules will include an auto die-cassette system which can load up to 10 die plates, thereby keeping efficiency high due to the automation of the die-loading. Reducing downtime and unnecessary manual intervention, this module also offers automatic pre-positioning of the die-cut, meaning no waste. There is a buffer system and 100 per cent print inspection, ABG says it is the only finishing company to supply its own designed and built camera.
Rewinding is non-stop turret. With 2000 non-stop turret customers worldwide, ABG says its latest turret technology offers unparalleled performance and incorporates a tension control. The unit will also have advanced JDF/JMF technology: barcodes between jobs are read with barcode scanners enabling automatic make ready of new jobs with minimal human intervention. There is non-stop waste handling: automatic waste matrix extraction and collection with minimal downtime.
Mark Daws, director – Labels & Packaging ANZ at local supplier Currie Group said, "ABG has once again set the benchmark in advanced digital finishing technology, focusing on more automation, better efficiency and higher production output streams.
 
"It is designed to handle even the highest production speeds offered by the new HP Indigo V12 digital label press, with the ability to run either inline or offline to the HP Indigo press platforms.
 
"As the market for digital label press technology continues to grow and longer digital production runs becoming more mainstream, the new automation in the Digicon S3 modules will offer our customers faster turnaround capability, enhanced productivity and ultimately better profitability.
 
"We look forward to introducing the new generation technology into our local market in the coming months."
ABG's Matt Burton said, "A key to ABG's leadership in the print finishing market is our ongoing relationship with HP Indigo. With 1000 installations worldwide, our Digicon series has changed the face of print finishing. With these new modules, every part of our machine is built to increase efficiency, minimise downtime, reduce waste and guarantee superior results."
See the modules in action at: https://vimeo.com/411040498/9f7b45cf70
Key benefits of the HP Indigo V12 Digital Press include printing up to six colours at 120 linear metres per minute (400 f/pm), using six inline imaging engines running simultaneously. Able to produce up to 130,000 linear metres per day with one operator. A new high definition (HD) imaging system on press provides 1600 dpi resolution. There can be up to 12-colours on press. With the ability to change inks on-the-fly and create any combination of colours.
The HP Indigo V12 will print on a wide range of substrates, from 12 micron film to 450 micron (18 pt) board. It supports pressure-sensitive, sleeves, flexible packaging, tubes, IMLs and more.
"ABG is the only print finishing equipment supplier offering this level of automation and sophistication. This innovation is helping our customers reach high levels of productivity for highly versatile job baskets with fast delivery and less waste," Yogev Barak, head of strategy and business management, HP Indigo, said.
A B Graphic International will present their latest technological advancements exclusively to Dscoop members on 12 May via webinar. To register please visit: https://bit.ly/2SpA4zL