Horizon aims for people-free finishing
Finishing solutions developer Horizon is launching fully automated print-finishing systems with robots, AGVs, and digital job bags all connected, which will result in no human operation in the bindery.
Speaking to NSW printers at a full- booked Horizon by Appointment event in the company's Sydney showroom, with appropriate social distancing maintained, Bernie Robinson, managing director of ANZ supplier Currie Group, said, "At drupa we would have seen Horizon finishing set-ups with no human operators. Horizon has developed its new ICE software to run the whole show. Everything is connected through the digital workflow."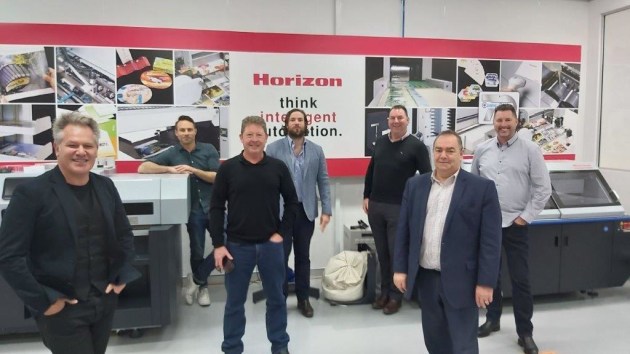 Robots are used to lift jobs on and off finishing machines, with automatic guided vehicles transporting the pallets between different machines. Workflow and makeready is controlled through the digital job bag, which runs on the ICE software.
Robinson took printers through a virtual demonstration of the human free bindery. He said, "I saw all this for myself at the Horizon Smart Factory late last year. The software, engineering, and the connectivity now available is next level. It will enable printers and finishers to gain higher efficiencies and more productivity with less waste."
Will Currie, NSW account manager, said there were some printers in NSW who had the volumes for a full human-free system, while others would just take parts of it. He said, "Robots, AGVs, and digital workflows will all allow print businesses to operate at maximum efficiency. Printers are looking for the quality, turnaround time, and price that Horizon delivers."
Anthony (AJ) Jackson, national sales manager, Commercial HP Indigo, presented on how to identify bottlenecks in print businesses. Using an industrial engineering process chart tool, AJ educated attendees on how to map all the steps in their existing workflows. AJ said, "We must focus on minimising the distance raw material travels in your operation. The goal is to reduce or eliminate inspections, delays, storage, handlin,g as well as operator decisions, through adopting automation and new technology with a common user interface."
During the four-day Horizon by Appointment event, Robinson also launched new Horizon equipment, including the BQ-500 perfect binder. Among the equipment on display was the StitchLiner Mark III saddle stitching system, a BQ-280 PUR perfect binder, a SmartSlitter sheet cutter and creaser, and the new RD-4055 rotary die cut system, Horizon HT-30C Three-side Trimmer, Horizon CRF-362 Creaser & Folder, Horizon APC-610 Hydraulic Paper Cutter and Foliant Vega 400 Laminator.
Social distancing during the event was maintained through a Sawyer robot which moved around, equipped with signage.