HP Indigo on Labelexpo roll with multiple launches
The world's biggest digital label and packaging solutions developer, HP Indigo, will have a complete digital pouch factory; new shrink sleeve solutions; new embellishment systems; metallisation; brand protection; and security systems launching on its stand at Labelexpo in Brussels next week.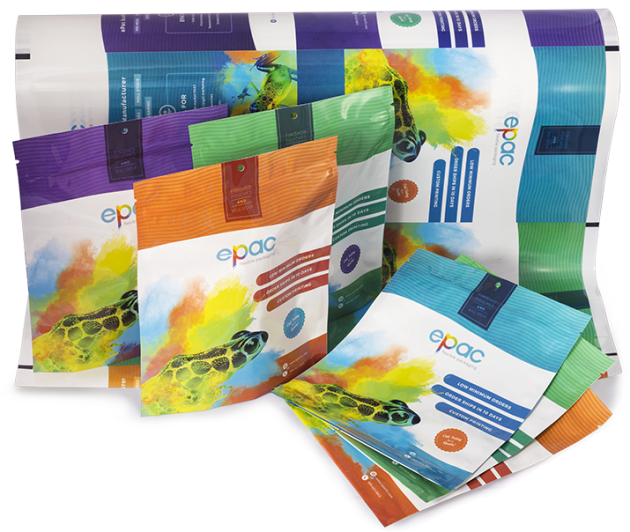 There will also be a Web2Pack workflow solution powered by PrintOS Site Flow and partners solution for automating end-to-end packaging fulfillment.
Supplied in Australia by Currie Group, HP Indigo's huge booth will be one of application innovation, created, it says, to drive customer growth in new digital label and packaging markets.
Mark Daws, director Labels & Packaging at Currie Group says, "The HP Indigo booth at Labelexpo will be where label and packaging printers will be able to see multiple opportunities to grow their businesses. I am looking forward to showing visitors from Australia and New Zealand the latest application driven developments from HP Indigo."
Daws will be leading the Currie Group team at Labelexpo for the duration of the show, which runs Tuesday to Friday at the Brussels Expo centre.
HP Indigo is reporting continued adoption of its digital solutions, driven by demand for higher quality packaging, diversified food products, brand protection, shrink sleeves, pouches, embellishments, and more sustainable printing.
"HP Indigo labels and packaging production offers a world of profitable applications at the highest quality, helping HP Indigo customers outpace market growth and double print volume every four years," said Alon Bar-Shany, general manager, HP Indigo. "Converters are investing in a digital future with HP Indigo, operating more than 2000 presses worldwide."
The HP Indigo Digital Pouch Factory demo will make its debut at the show with the HP Indigo 20000 Digital Press and Karlville Pack Ready lamination and pouch making machines.
Visitors to the HP stand will see the HP Indigo 8000 Digital Press, which the company says is the industry's most productive narrow-web press, printing at up to 80 metres per minute, as well as survey one-shift towers of production printed by Interket of the Netherlands and L'Eperon of France, winners of the HP Indigo 8000 Challenge. HP says many Indigo 8000 users are printing some 20,000 metres per shift, with an 85,000-metre one-day record set recently in Asia.
The HP Indigo ElectroInk white ink portfolio will expand with HP Indigo ElectroInk Premium White for Sleeves for narrow-web presses. The new high slip white ink can deliver a wider range of opacity levels, in a single print process, and is designed specially to help more efficient shrink sleeve converting.
Visitors to Labelexpo are invited to the HP Stand to watch live printing of shrink sleeves on the HP Indigo 20000 Digital Press and inline coating with the ABG ILC 762, followed by converting on beer cans at the adjacent Karlville stand.
The HP Indigo GEM integrated with the HP Indigo 6900 Digital Press can produce digital spot and tactile varnishes, digital foils, and a range of other creative effects. The one-pass solution needs only one operator and one digital file per job. In Europe, GEM beta testing in now beginning at All4Labels, Germany. The GEM is scheduled to begin commercial availability at the end of the year.
A new inline Kurz DM-Jetliner digital metallisation solution with the HP Indigo 6900 makes its Labelexpo debut, demonstrating silver and gold digital foiling.
Another new ink, HP Indigo ElectroInk Fade Resistant Orange, is being released to complete a seven-colour ink set for outdoor label applications requiring high lightfastness.
For brand protection HP is coupling new software and cloud-based solutions that allow anti-counterfeiting marks, micro text fonts, and protected track and trace solutions, converters can offer layered security, static or serialised, for brand protection.
HP Indigo also has a new collaboration with Agfa, expanding its security portfolio to offer variable data designs for brand protection and security applications.
At Labelexpo, HP will present new sustainable packaging solutions and new credentials including Green Leaf sustainability mark from Intertek for the HP Indigo 6900, HP Indigo 8000, and HP Indigo 20000, independently verifying the digital presses for environmental credentials.
Deinking tests have been conducted by Cadel Deinking of Spain verifying that HP Indigo digitally printed flexible packaging, including coating, can be fully deinked. The results on a range of substrates open new ways for brands and service providers to work towards higher sustainability, where deinking is an essential stage in the recycling process.
New workflow offerings released at Labelexpo for HP Indigo digital press users include an enhanced Esko Automation Engine for HP Production Pro for HP Indigo Labels and Packaging, which enables HP Indigo users to boost productivity while using Esko DeskPack templates.
Web2Pack workflow solutions powered by PrintOS Site Flow and partner solutions for automating end-to-end packaging fulfillment will deliver dozens of jobs per day with minimum touchpoints.
HP is presenting new advancements at Labelexpo including PrintOS Enhanced Productivity Mode (EPM) Preflight for Labels and Packaging, replacing manual file analysis and offering an effortless way to check the compatibility of PDF files for printing 33 per cent faster using three colours.
Visitors will also see HP PrintOS Marketplace – a disruptive cloud-based solutions community to enable on-demand subscription to a wide variety of value-add workflow apps and licenses, plus a new community of ideas, services and more, from HP and any third-party vendor for customers to share, sell, upload, and download designs and solutions.
HP Service Edge is launching a new service for HP Indigo digital press customers that enables the prediction of potential press issues or failures before they occur. The HP Predictive Press Care service uses artificial intelligence (AI) and real-time press data algorithms to analyse press status.