Imagination fires up B2 inkjet AccurioJet
Imagination Graphics has fired up its new Konica Minolta AccurioJet KM-1, the company's B2 inkjet sheetfed printer, with the first sheets coming off the press six months after the company was flooded out.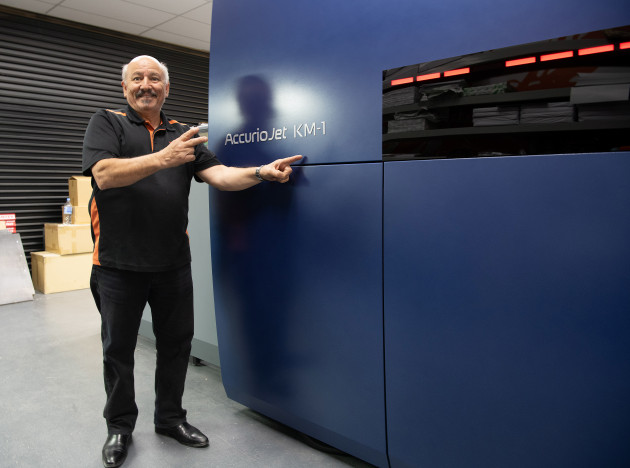 The company's first KM-1 had only been running for a few months when the February floods raced through Imagination's Marrickville premises, the knee-high waters damaging all production equipment, wiping out his print power.
Owner Emmanuel Buhagiar was insured though, and has been re-equipping the factory for the past three months, including with the country's first Konica Minolta Accuriopress C14000 high speed cutsheet digital colour SRA3 printer, with the new KM-1 the final part of the puzzle.
Buhagiar said, "In the short time we had the original KM-1 we were getting offset quality print from it, and with no makeready and no waste. It is so good to have the new machine up and running now, and we look forward to producing high quality print for our clients."
Like all printers Imagination has seen work drop during the Covid crisis, but Buhagiar said, "I know the work is there for the KM-1. With its ability to print high quality, on-demand, on various stocks, we are well placed to meet the demands of the market."
Imagination kept trading while it had no kit, thanks to local printers, and has been keeping its head above water during the Covid crisis with rotating shifts and holidays. Buhagiar said, "We have clients who have kept on buying print, which has been great. We can now see work picking up."
The B2 inkjet AccurioJet KM-1 prints 3000sph on stocks from in thicknesses 0.06mm-0.6mm.
Sue Threlfo, general manager for production and industrial print at Konica Minolta said, "We are delighted to see Imagination back up and running after the devastating floods. Emmanuel and the team have worked really hard to get to this point. We know the new AccurioJet KM-1 will enable the company to move forward, and we look forward to supporting the business on its journey.
"The AcurrioJet KM-1 is performing exceptionally well wherever it has been installed, and surprising its users with its performance and flexibility," Threlfo said.