KM-1 shines at Imagination launch
Sydney's Imagination Graphics has celebrated the installation of its Konica Minolta AccurioJet KM-1 B2 sheetfed inkjet press, the first in New South Wales.
At a glittering get-together at Imagination's Marrickville headquarters the 100 visitors were given the opportunity to see the printer's new KM-1 – affectionately dubbed Kimmy – in action.
"She's a hard worker, good looking, great manners," Emmanuel Buhagiar, owner of Imagination Graphics, told guests. "She fits into our business and our company so well. She'll end up being one of our hardest workers."
Kimmy has been up and running for seven weeks, Buhagiar telling Print21 that his investment in her is paying off.
"It's opened up a whole new market in short-run digital at a great price, and the quality is better than offset.
"We can still put short-run work on our Konica Minolta toner machines, but for that work that's a bit of a longer run, putting it on the KM-1 is a no-brainer. We can go to five hundred, a thousand, two thousand books at a great rate for the customer," he said.
Sue Threlfo, general manager for Production and Industrial Print at Konica Minolta, said the night was a great celebration of Imagination's achievements and the KM-1's capabilities.
"Imagination Graphics is going through a fantastic transition to growing its business, and we're delighted to see how far Budgie has come. The KM-1 is a huge addition and I know he's got great plans. We're thrilled to be part of it.
"Clients like Imagination Graphics are just what Konica Minolta is all about. We haven't had industrial printing in our range for long, so it's really been the small printers that have been customers, we've grown with them together.
"They're loyal to us and we're loyal to them, so to see somebody to grow in into something like a KM-1 is really exciting," she said.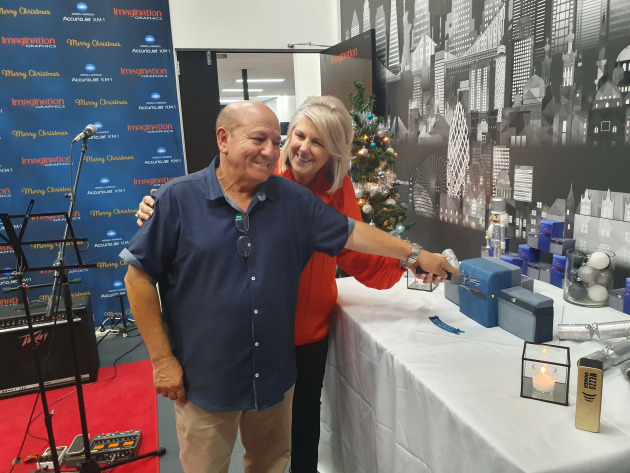 David Cooke, CEO of Konica Minolta Australia, added that Buhagiar's familial relationship with his clients and suppliers helped make Imagination a company Konica Minolta was proud to partner with.
"I feel like I'm at a wedding rather than the unveiling of a large new piece of technology. This is a great business, and Emmanuel is just one of those  decent people that you come across in life from time to time. We just love having a relationship with him," he said.
Imagination is well known for its monthly barbeques and this was the largest ever, with clients, suppliers, the local trade, and industry media enjoying the evening.
The AccurioJet KM-1 inkjet sheetfed digital B2 is already up and running in Victoria, with installations including Revolution Print in Ballarat and Jossimo in Melbourne.