Kodak launches raft of new technologies
On what would have been the opening day of drupa Kodak has released a tranche of new technologies for offset printing and digital flexo printing with plates, platesetters and workflow solutions.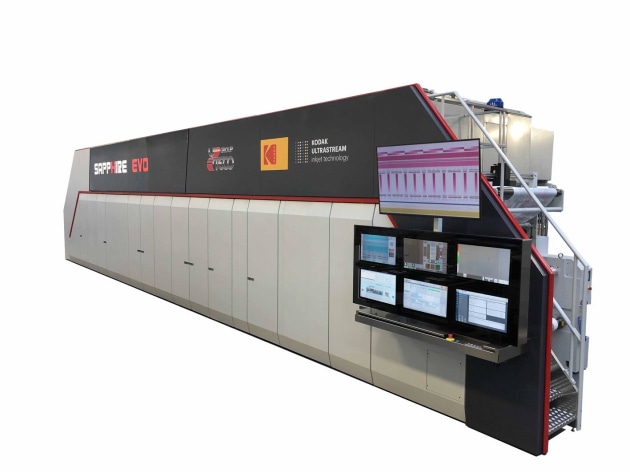 The company has already released details of its new digital Ultra high-volume, high-resolution digital press, it is also targeting the offset and flexo markets with the new solutions.
In flexo Kodak is releasing what it says is the world's most productive digital flexible film press – the Uteco Sapphire EVO W. Kodak claims the Sapphire EVO W is the first digital packaging press to match the productivity of flexo and the quality of gravure.
It uses Kodak's high-resolution Ultrastream inkjet technology and QD packaging inks to bring the opportunities of digital printing into mainstream production of flexible packaging. With run lengths of up to 20,000sqm, or more with variable content, Kodak says the Sapphire EVO W is a disruptive solution that allows brands to adopt innovative packaging that leverages the advantages of digital printing. The Sapphire EVO W Press is available today worldwide.
The company is launching a new version of its Sonora process free plate, the Sonora Xtra, with which it aims to enable more printers to print process free. Due to be released at the end of the year Kodak describes Sonora Xtra as a tougher, more robust plate, delivering stronger image contrast, which can be used with UV inks, and says it will be 20 per cent faster than the Sonora X plate.
The Next Evolution of Kodak PrinergyWorkflow has arrived with the On Demand Workflow Platform. Prinergy On Demand is a new global platform that hosts a suite of offerings that Kodak says will modernise and maximise a printer's PrinergyWorkflow investment.
Select customers are already experiencing what Kodak says is the increased security, reliability, efficiency, and remote work flexibility of Prinergy On Demand hosted and managed by Kodak in the cloud under a cost-effective monthly subscription. This is backed by the secure network infrastructure of Microsoft Azure, so printers can be confident that their data and system are always protected. Prinergy On Demand is available now, with new options planned to be rolled out at the end of 2020.
Cranking up the speed another notch, Kodak is introducing what it says is the world's fastest 8-Page CTP for process free plates with the new Kodak Magnus Q800 Platesetter with T-Speed. The Magnus Q800 Platesetter will now be able to image up to 80 plates per hour to help maximize the productivity of offset workflows. Faster imaging speeds need automation that can keep up, so Kodak is also introducing an updated Multi-Pallet Loader that matches the 80 pph speed and with a capacity of up to 3200 plates. The T-Speed Magnus Q800 Platesetter will be available for beta testing this month and in production in September 2020. It will start shipping in June.
Available next year, the new Magnus Q4800 Platesetter will deliver speed and productivity for extra-large format (XLF) plate making. Kodak says it will deliver the fastest throughput for XLF size plates for 96-page presses and provides market-leading throughput for 1650 mm size plates, with dual plate loading. It will also have the most flexible pallet automation available with up to eight plate sizes online and up to 4800 plates online.