Kodak targets commercial print with new inkjet press
Kodak is making a major move into inkjet presses, targeting the commercial print and publishing markets with new high-resolution, high-speed system Kodak Prosper Ultra 520, using its Ultrastream print heads.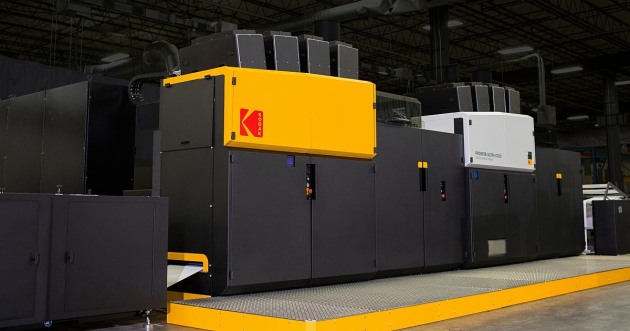 There are two versions of the press: the Ultra P520 for publishing applications with lower ink coverage requirements and Ultra C520 for commercial print applications with higher ink coverage. The Ultra C520 comes with additional drying in the form of four drying units to cope with this on standard offset papers.
The release of the new presses represents a strategic shift for Kodak under its new CEO Jim Continenza. Under its previous boss, Kodak was looking to sell its inkjet division. However, Continenza says the company will make inkjet central to its future and will "double down on digital".
Kodak says the Ultra 520 delivers offset-like quality at a consistent production speed of 150 meters a minute on glossy papers with high ink coverage and variable print. The Ultra C520 will print at full speed on paper from 45-270gsm; the P520 on 45-160gsm, while at heavier weights this version may need to decrease speed. Kodak claims it is all at the industry's lowest cost of operation.
Both versions of the Ultra are rated to print up to 60 million A4 pages a month. Both print with the 600x1800dpi resolution Ultrastream printhead, which Kodak says is the equivalent of 200lpi offset. It fires water-based inks on all media that has been coated using the inline coating module.
The new press is the first Kodak-manufactured press using Kodak's Ultrastream writing system, which employs high-precision placement of smaller, perfectly round, satellite-free drops to produce what Kodak claims is the highest inkjet image quality available in the marketplace today.
The company says the Ultra 520 is engineered to maximise productivity by printing across a broad range of substrates using the industry's most versatile, highest quality and cost-effective water-based inks. It will produce a range of range of applications, including direct mail, marketing collateral, catalogues, and books. It is scheduled to be available at the end of 2020.
Jim Continenza said, "Kodak is investing approximately US$25m a year in advancing print technology, doubling down on digital print and delivering the products our customers need to drive productivity and growth as the industry evolves. The new Prosper Ultra 520 Inkjet Press is the product of our heritage of innovation in print and our continuing focus on developing breakthrough technologies."
Kodak is also launching several other products in digital flexo, plates and workflow, details to follow.