Koenig & Bauer kicks off live drupa sessions
Press manufacturing giant Koenig & Bauer has kicked off its live virtual event, which is highlighting the latest developments, and running every day during what would have been drupa.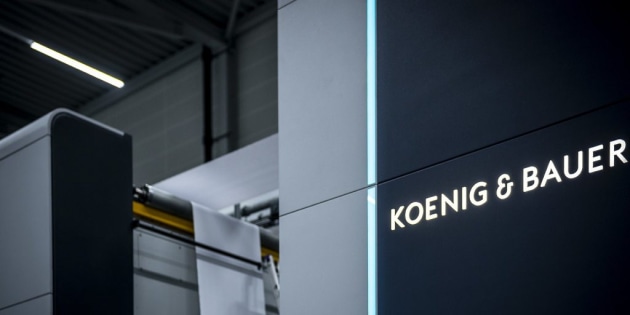 The opening session gave a sneak peak over what would be revealed during the next ten days which includes new versions of the Rapida 76, 106 and 145 sheetfed presses. Koenig & Bauer also revealed it has built a new 3000sqm customer experience centre at its Radebeul base.
During the first session, Koenig & Bauer also said its will be releasing a host of post-press innovations, include a flatbed die-cutter, the CutPro 106, and the Rapida RDC 106 rotary die cutter. The latter comes with inline blanking, the company says it is the fastest on the market. Ralf Sammeck sheetfed segment director, said: "We want to be your first choice, not only for printing presses but also for post-press."
The live event is scheduled to run every day apart from the weekend, with the sessions in English at 6pm Australian Eastern Standard Time and 8pm in New Zealand. Registrations for the event are via koenig-bauer.com/live.
As well as seeing complete packaging workflow or commercial applications, the weekday streaming from the live area of Koenig & Bauer's website will cover its diverse portfolio, ranging from banknotes, via board, film, metal and glass packaging through to coding, advertising and publication printing.
Another highlight will be digital packaging printing updates from Koenig and Bauer Durst and the launch of the new B1 6000sph VariJet 106, which integrates inkjet technology into the platform of the high-performance Rapida 106 offset sheetfed press. Also taking centre stage will be the market launch of the Rapida 106 – Generation 2020.
Senior executives will be providing updates on progress and developments. Each session lasts 20 minutes. Helping to bridge the gap between drupa originally scheduled for this month and the new date in April 2021, web visitors will learn of Koenig & Bauer's latest innovations for the printing industry.
Remaining schedule as below, all sessions 6pm AEST, 8pm New Zealand.
 
 

June 19

Koenig & Bauer Durst – joint venture for digital packaging printing

June 22

Sheetfed – digital services with Koenig & Bauer 4.0

June 23


Sheetfed – market launch of the Rapida 106,
generation 2020: packaging applications

June 24


Sheetfed – the postpress concept for state-of-the-art
packaging production

June 25


Sheetfed – market launch of the Rapida 106,
generation 2020: commercial applications