Koenig & Bauer launches new B1 Rapida 106 X
Press manufacturer Koenig & Bauer has unveiled a new B1 press for the packaging and commercial markets, the Rapida 106 X, at its live streaming event in Germany, which is running during what would have been drupa.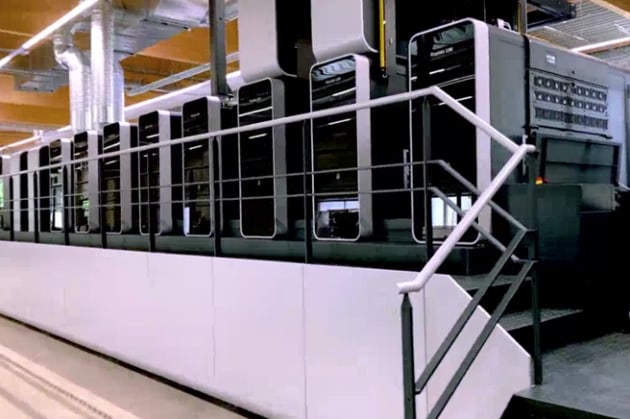 The Rapida 106 X was shown in a seven-colour with double coater and succeeding extra print unit configuration for packaging production. An eight-unit perfector with coater, for the commercial market, will be shown at the Thursday Live event. Both presses will be on general sale from November.
Koenig & Bauer said the new press had been developed from scratch, and says its 20,000sph speed makes it "the fastest packaging sheetfed press on the market". It says it will deliver time savings of 25 minutes by optimising production schedules and job specifications.
The Rapida 106 X also has a new black and grey livery and has illuminated glass side panels. Dave Lewis, managing director of Koenig & Bauer Australasia, said, "The new Rapida 106 offers commercial and packaging printers unparalleled levels of productivity. With high speed, makeready in genuine minutes, and connectivity, it is a press for the modern era."
It has a new touchscreen operating panel and comes with a press status display at the delivery end. It also has an app, which gives details on the current job and the next in line. The Job Optimiser software, is a bridge between a printer's MIS and the Koenig & Bauer Logotronic press management system.
Dirk Winkler, head of printing technology at Koenig & Bauer, said, "Just when we and everybody else thought the potential of makeready savings was exhausted, Koenig & Bauer comes around and is presenting totally new features."
Speaking on the configuration of the press at the live stream event, which was seven-colour, double coater and a following print unit, Sascha Fischer, head of product management, said, "This configuration is becoming more and more standard in the packaging market, because it gives you full flexibility."
Among the innovations the new Rapida 106 X accepts unbent plates, doing away with a step in pre-press, and its simultaneous roller wash works on UV applications. It has a new cold foil module delivering foil savings. Ink colour can be changed in less than two minutes, thanks to upgraded ink ducts.
The KBA Live stream is running at 6pm AEST and 8pm NZ time today and tomorrow direct from the company's new exp[anded Customer Experience Centre in Germany, with pre-press the focus for today, and commercial printing tomorrow. Click here to register.