KOENIG & BAUER LAUNCHES NEW B2 RAPIDA 76
German press manufacturer KBA is launching a new B2 sheetfed offset press, the Rapida 76, available in a multitude of straight, perfecting, commercial, packaging, and special configurations, and targeting high-end print production in the medium size format.
The highly automated press has a small footprint, runs at 18,000sph, and comes with what Koenig & Bauer says are both new and proven automation functions, which it says characterise the Rapida 76 as an efficient, high-performance press.
Available in both standard sheet format of 530 x 750 mm, and special format of 605 x 750 mm, it also stands out visually from its predecessors, and presents itself in the new, award-winning Koenig & Bauer design.
Key features are the DriveTronic dedicated drive components, which eliminate complicated gear systems and provide for both simple handling and parallel processes during job changeovers and make-ready. The full preset capabilities of all press components are a further benefit. In addition to the ErgoTronic console with wallscreen, the Rapida 76 possesses further decentralised touchscreens for maximum ease of operation.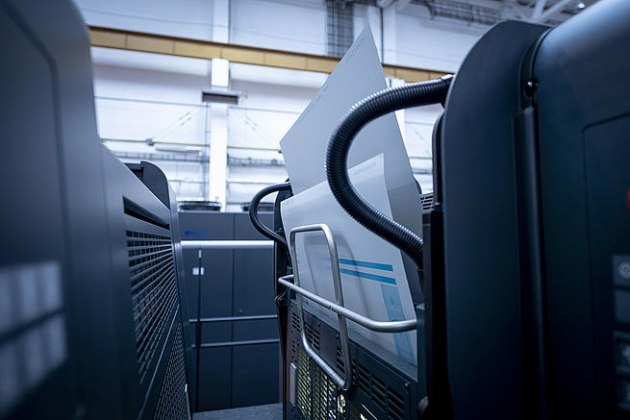 To cater for as many different applications as possible, up to 11 printing and finishing units can be combined to configure a Rapida 76, which is tailored precisely to individual production needs.
That could mean a 10-colour press with an automatically convertible perfecting unit for five-over-five production – possibly together with an additional coating tower to allow the printing of covers, for example – or packaging presses with double-coating facilities for the production of pharmaceutical packaging and the like.
Further variants incorporate raised foundations to accommodate higher piles with board substrates, or various delivery extensions for coating applications. Ink duct dividers can also be chosen to enable rainbow printing. Thanks to a comprehensive range of measuring systems and optional facilities for inline sheet inspection, the Rapida 76 is prepared for a diversity of special applications, including even the production of security documents.
The half-format press is no less flexible when it comes to compatibility with different ink and coating systems. It handles both conventional and UV inks and coatings. Beside IR/hot-air drying systems, various UV, HR-UV and LED-UV systems are also available.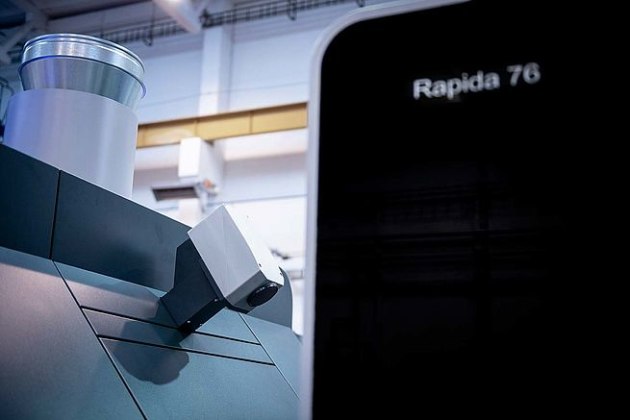 As on all Rapida presses, inking units that are not required for a particular job can be disengaged from the press drive. This reduces roller wear and cuts make-ready times. When production is to be resumed, the units concerned are re-engaged at the press of a button.
The times in which plates had to be bent before loading onto the press are similarly over. On the Rapida 76, unbent plates can also be mounted, irrespective of whether an automated or simultaneous plate changing system is in use.
Koenig & Bauer says the ColorTronic ink ducts – with the bleed-free ink metering, which is typical of all Rapidas – guarantee high repeat accuracy. This is achieved with individual ink keys and a special mechanical design which ensures that they are always set to the duct roller with an identical force. With this system, ink duct foils are rendered superfluous. Thanks to the EasyClean duct plate coating, fast ink changes are possible.
With simultaneous plate changing, all the plates on the Rapida 76 can be changed in just 45 seconds. In combination with CleanTronic Synchro, the blankets and impression cylinders – and optionally, also the ink rollers – can be washed parallel to plate changing. This shortens make-ready times dramatically and leaves much more time for actual production. The same applies to automated coating forme changes.
Application-orientated measuring and control systems contribute to faster make-ready, reduced waste, and a consistently high and stable print quality. The Rapida 76 can be configured with systems for register measurement and control, colour control and sheet inspection. All inline systems operate with a common camera, which reduces maintenance requirements and simplifies handling.
In a full-featured setup, ErgoTronic ICR controls the register by way of a single sheet placed on the console, while QualiTronic ColorControl provides for convenient colour adjustment. The camera system – installed after the last printing or coating unit or after the last unit before perfecting – automatically determines the optical densities and controls the ink keys without further intervention.
As an option, the system can be expanded to implement colour control according to grey balance (QualiTronic InstrumentFlight). QualiTronic PDFCheck carries out inspection of the printed sheets and comparison with the customer's PDF as the basis for uncompromising quality.
A multitude of digital services surrounding the Rapida 76 help reduce unplanned downtime; facilitate convenient and barrier-free maintenance of the press; and permit anonymous comparisons of important performance parameters with other presses in identical configurations.
The options range from PressCall for optimisation of communication with remote maintenance engineers and VisualPressSupport to enable a better description of the reason for a remote maintenance call using photos (with extensive commenting functions), texts, videos, and audio, via Performance Reports and Press Inspection Reports, through to the first instances of predictive services based on methods of artificial intelligence.
In this context, the Customer Community is a central point of contact bringing all service offers together under one roof. Users and the manufacturer have access to an identical information database, meaning that they are all on the same page when working together.