Koenig & Bauer sets out drupa stall
Printing press manufacturer Koenig & Bauer is heading to the flagship trade fair of the print and media industry with a raft of digitalisation solutions, product innovations, and a completely new machine design.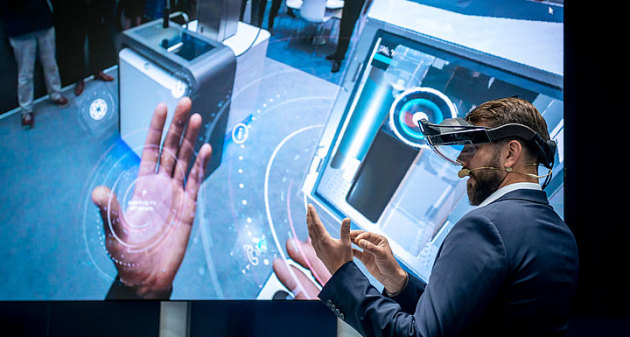 The company's entire machine portfolio will be in the new design, it will present smart digitalisation solutions, will show a complete packaging workflow from a single supplier, will have new solutions for flexible packaging printing, and it will be launching digital printing applications from the joint venture Koenig & Bauer Durst.
Claus Bolza-Schünemann, CEO at the company said, "At drupa, we will be bringing the customer experience together with our latest innovations from the print industry. The world of print is a fascinating world. It is the diversity of solutions for printing and finishing which makes it so colourful. And we invite visitors to the fair to explore this world."
There is hardly any substrate on which Koenig & Bauer is unable to print: From banknotes, to board, film, metal and glass packaging, through to book, display, coding, magazine, advertising, and newspaper printing.
The company says that products printed on machines from Koenig & Bauer accompany us at every stage of our daily lives. Under the motto 'we print your world', the group will be showing print applications which touch people's worlds at drupa 2020.
Under the banner of Koenig & Bauer 4.0, the inventors of the high-speed printing press will be introducing smart solutions for digital transformation. Visitors to the fair can experience how the use of data-driven services can make their business processes more efficient and their machines more productive in a live environment.
In packaging printing, Koenig & Bauer will be demonstrating a complete workflow for folding carton production: Printing, die-cutting, folding and gluing – all on a single fair stand and with machines from Koenig & Bauer.
Within the framework of the joint venture Koenig & Bauer Durst, the two partners will be highlighting digital printing presses for folding carton and corrugated board production, including the new VariJET 106.
In the 203rd year of the company history, the whole Koenig & Bauer group will be presenting a completely new design for its entire machine portfolio for the first time at drupa 2020. "Even before the fair gets started, we have already picked up coveted design prizes for a number of machines," said Bolza-Schünemann.
The Koenig & Bauer stand can be found at its familiar location in Hall 16. Over an area of 4,000sqm, the group will be showcasing products, solutions and service offers from sheetfed and web printing, digital printing, flexible packaging printing, metal decorating, printing on glass and hollow containers, coding and marking, security printing and post-press.
In addition, the two subsidiaries Koenig & Bauer Iberica and Koenig & Bauer Duran will be welcoming visitors with post-press applications in Hall 10. Further information on the group's drupa highlights will follow in the coming weeks.