Konica Minolta launches high-speed printers
Digital print solutions developer Konica Minolta launched its high-volume toner AccurioPress C14000 and C12000 colour printers at a live streamed event from its Sydney showroom, emceed by comedian Joel Ozborn.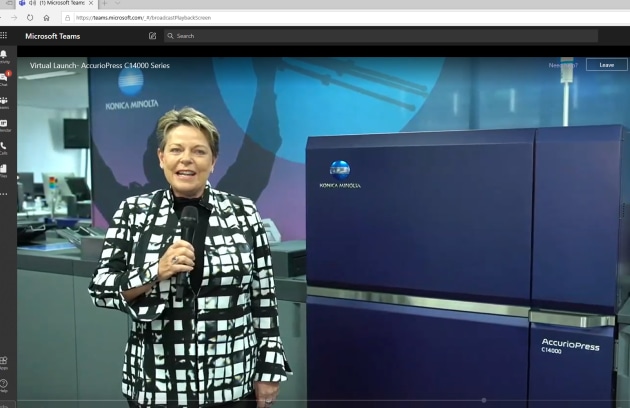 The company says is aiming to reach "new commercial print customers who require high productivity, efficiency of operations, and quality for direct mail, brochures and catalogues".
The presentation highlighted the AuccurioPress C14000 as an all-in-one, high quality, high speed, digital colour production printer, with the IQ-510 automated quality control unit, and the new TU-510 inline finishing unit shown as part of the new printer.
Wrapping up the presentation Sue Threlfo, general manager, production and industrial print at Konica Minolta, said, "You can see why we are so excited about the new AccurioPress C14000 and C12000. They will provide printers with new efficiencies and new applications."
Threlfo said the new printer – four years in the making – was part of Konica Minolta's new Rethink strategy, even more prescient with the advent of Covid, which has seen printers around the world operating in a new business environment.
Product marketing manager Grant Thomas ran through the specifications. The C14000 prints in CMYK at up to 140ppm A4, or 80ppm A3, with a resolution that the company says is equivalent to 3600 x 2400dpi. It has enhanced media capability up to 450 gsm, and a printing speed 40 per cent faster than the firm's existing toner devices. It will be joined by the C12000, which prints at 120 A4ppm.
The new C14000 detects paper types automatically. It has inline trimming, slitting and creasing for full-bleed output, with simplex banner printing up to 129.5cm and duplex banner printing up to 90cm. The TU-510 Versatile Trimmer Unit also means the press can finish business cards inline.
Solutions analyst Luke Mortlock gave a thorough demonstration. Mortlock pointed out the new feed system and the new toner cartridges, which are good for 200,000 impressions each, before spending time explaining the IQ-501 auto correcting colour control system. It can also calibrate to previous jobs. It will also self-diagnose, and through cloud connection to Konica Minolta will provide key data for a technician before they arrive.
The TU-501 finishing unit will produce everything from business cards up all inline, with a full range of options including saddle stitching and square back binding.
Konica Minolta says its new flagship cut-sheet product "will maximise customer value based on opportunities for business expansion, accelerated operational efficiency and improved total cost of ownership (TCO) with faster investment return".
Until now, Konica Minolta has not produced a toner-based high production print (HPP) product. Its AccurioJet KM-1 inkjet press – the latest just going into Imagination Graphics in Sydney – has been its flagship production model, with a speed of 3000 sheets per hour, designed more for high-quality applications, similar to offset printing. The AccurioPress C6100s series for mid production print (MPP), on the other hand, are designed to support a responsive print room environment. Konica Minolta says the AccurioPress C14000 covers the gap between these two products in the high production print (HPP) segment, offering a higher print volume and longer duty cycle, to reach new commercial print customers.
The new C14000 works with Konica Minolta's IQ-501 Intelligent Quality Care enhanced auto inspection options, which offer expanded inspection performance, verifying print quality and now detecting streaks and spots as well as blemishes. According to the company the high-quality prints mean maximum stability even during long run jobs, while better registration and quality increases total print volume. The new presses offer a highly reliable duty cycle of 2.5 million, with double the toner capacity of earlier models.
Konica Minolta recognises the launch of the AccurioPress C14000 and C12000 as a major opportunity to enter into the high-production print equipment segment. Both the AccurioPress series of printers and the IQ-501 Intelligent Quality Care are designed and offered to the market exclusively by Konica Minolta.
Specific details on the new AccurioPress series include duplex banner printing up to 900mm, simplex banner length capability of 1300mm. It has envelope and embossed media printability gives customers the opportunity to print new types of work, such as four-panel gatefold brochures and book covers for finishing offline. New technology used in the print engine dramatically improves image quality on textured paper stocks.
Paired with Konica Minolta's enhanced IQ-501 Intelligent Quality Care Unit, the new press automatically and continuously measures and corrects colour so the first print in a run matches the last. Two-dimensional registration correction has also been improved through the higher output resolution.
The automatic media detection sensor comes standard on these models, detecting the stock and assigning the appropriate tray, eliminating time consuming paper settings and operator error. These attributes result in streamlined operator time, reduced print waste and increased productivity.
Additionally, the LS-507 Large Stacker supports higher speed, permits banner bypass and offers operators the advantage of offloading while the machine is still running, another new benefit added to Konica Minolta's AccurioPress expanded line.
Colour management and job management utilities are available with the Konica Minolta's proprietary controller. Third party controller options include the latest Fiery and Creo models.
MC Joel Ozborn, commenting on the lockdowns which saw the launch live streamed, said there had been upsides, including the postponement of Fast and Furious 9.