Labelexpo 2019 largest ever
The landmark 40th anniversary edition of Labelexpo Europe 2019 was its largest, most international show held to date, with all figures rising to record levels.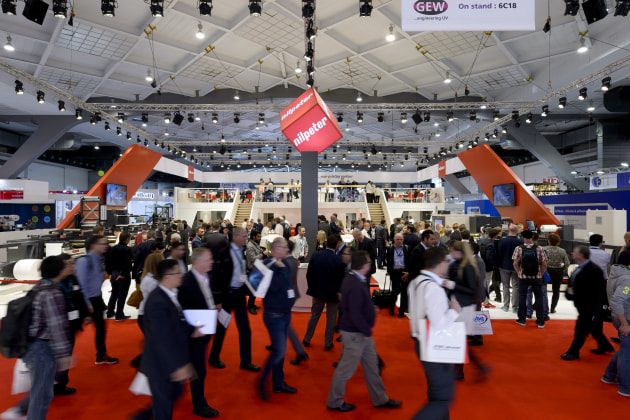 Following the success of the event, the next Labelexpo Europe scheduled for two years time is already 83 per cent sold.

At this year's event a total of 693 exhibitors were spread over nine halls at the Brussels Expo Parc, covering almost 40,000 sqm of floorspace, up by almost 10 per cent from 37,600 sqm in 2017.

Poor weather didn't deter 37,903 visitors from 140 countries flocking to the four-day show – a substantial increase on the 125 that came two years ago. A large number of Australian and New Zealand label printers made the long trek.

Labelexpo presented the largest offering of label and package printing technologies and live demonstrations seen to date. This included the fast growing areas of hybrid printing, flexible packaging and automation.

Major press manufacturers announced multiple sales on a daily basis, including HP's 200th HP Indigo 20000 Digital Press, sold to a Slovenian converter; Domino's 7-colour N610i inkjet press sold to a Belgian converter on day one; Lombardi's sale of five Synchroline 430 presses during the first two days of the show; Gallus' sale of three presses into India; Konica Minolta's AccurioLabel 230 toner label press, sold on day one and which also debuted at the show; Grafisk Maskinfabrik's DC350 digital converting line and a SR350 inspection slitter rewinder sold to a UK converter; Grafotronic's laser die-cutting system sold to an American label converter after launching the machine at the show; and Screen's first TruePress sold into Germany.
Indian machine manufacturers did particularly well, with UV Graphic Technologies selling seven Ultraflex UFO presses; Multitec selling its full servo S1 press to a Russian converter; and Monotech Systems selling three Colornovo presses, one each in China, Europe and Asia.
Chinese manufacturers also fared well, with sales highlights including label press manufacturer Wanjie's sale of a printer to a converter in Spain. Rhyguan sold three finishing systems on day one: one to an Italian converter and two to companies in Germany.
Demonstrating that the show has evolved from a labels show into a wider package printing show, flexible packaging innovations were much in evidence on the show floor, with press launches including Omet's new X7 flexo printing machine for labels and flexible packaging with 670mm web width. Lombardi unveiled its Invicta i2 line, designed for flexible packaging in the mid web sector, while Nilpeter launched its 17" wide FA-Line press featuring cold foil, lamination, and its new high-speed semi-rotary die-cutting unit.
Hybrid machinery was another key trend much in evidence, with launches including Bobst, which unveiled its new Master DM5 hybrid label press, and MPS, which launched a new 430mm edition of the hybrid EF Symjet press. Mark Andy unveiled a new entry- to mid-level digital hybrid press, which was demonstrated live at the show with advanced in-line converting.
Other machinery launches included Gallus' Digital Printbar digital embellishing unit designed specifically for opaque white and using inkjet-based digital print technology. Konica Minolta premiered its recently launched AccurioLabel 230, a new version of its digital toner press, while Grafotronic showcased seven new models out of a total eleven machines presented at the show.
Lisa Milburn, managing director of Labelexpo Global Series, said: "We are delighted that our 40th anniversary edition of Labelexpo Europe has been our largest, most international to date, especially as it is now rapidly moving forwards into a show that encompasses not just labels but also package printing. This was clear from the array of flexible packaging innovations and hybrid machinery on the showfloor, giving label converters ever more options to diversify their businesses.
"The feedback we have received from visitors and exhibitors alike has consistently highlighted the superior quality of the leads, enquiries and contacts made at the show, with a number of deals sealed on the exhibition floor, and 83 per cent of space already booked onsite for Labelexpo Europe 2021. This demonstrates that the global label and package printing industry remains as vibrant as ever, and that this show – 40 years on – is still a vital platform at the forefront of the entire supply chain."
The show's popular main feature, the Flexible Packaging Arena, drew in large crowds at every one of its eleven live demonstrations. Visitors witnessed a Xeikon CX500 (digital) and a Bobst M6 (UV Flexo) producing indirect food contact flexible packaging to the latest GMP standards. HP Indigo offered live demonstrations of digital pouch making showcasing the HP Indigo 20000 digital press, Pack Ready Lamination, and the Karlville pouch-making machine making its show debut on the HP stand. Other HP innovations at the show included the HP Indigo 8000 Digital Press, which ran in line with the ABG Fast Track die, and the best-selling HP Indigo 6900 Digital Press, which visitors could see in action with an integrated Kurz DM-Jetliner finishing module.
At the neighbouring Sustainability Insight Café, sponsored by Avery Dennison, Xeikon, Ravenwood Packaging, and Sihl ARTYSIO Packaging, visitors were able to see how they might boost their green credentials with a gallery of the latest sustainable innovations.
Reflecting increasing interest from Asia, and with just two months until Labelexpo Asia 2019, Labelexpo Europe 2019 also hosted its first China Day on day one. This saw representatives from more than 100 label printers and converters from China visiting the exhibition, including the vice president of trade association PEIAC, key show partner to Labelexpo Asia 2019.
The popular educational program – the show's most extensive to date – drew in attendees eager to boost their industry knowledge. Three expert-led Label Academy hosted master classes covered the hot topics of Inks, Coatings and Varnishes; Digital Label and Package Printing; and Flexible Packaging, while a workshop covered Self-Adhesive Label Materials.
The Label Industry Global Awards 2019 took place on the evening of day one, with winners from Avery Dennison, Esko, GMG and GEW honored at the 1980s themed celebration, which also marked Labelexpo's 40th anniversary. The event was hosted by 1980s singing legend and performer Tony Hadley, who found fame with Spandau Ballet in the 1980s.