Labelexpo Day 2: Biggest ever Labelexpo for ABG
Converting solutions developer ABG – supplied in ANZ by Currie Group – had its biggest ever presence at this year's Labelexpo, with some 20 machines, both new and current, on its booth.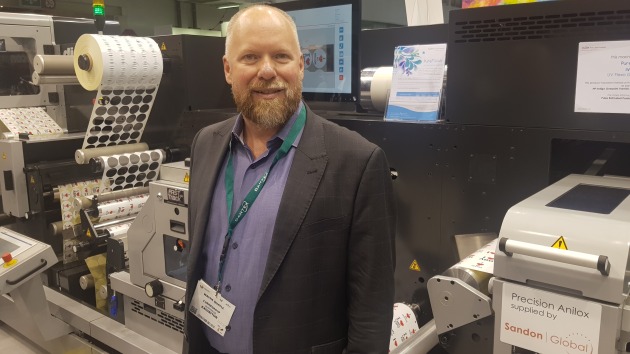 Wayne Quayle, sales manager Currie Group said, "The ABG solutions offer printers and converters a tremendous range of cost-effective options. The Jetfx, for instance, has digital spot foiling and varnishing with no dies."
Among the kit on display is the Jetfx digital embellishment module for the Digicon Series 3 converting line. The offline, fully-digital system includes two inkjet heads with UV pinning and curing; automated cold foil throw-off; shuttle system for inspection and waste reduction; chill rollers for sensitive materials; prepress software; and food-compliant fluids. According to ABG, it allows for multiple processes in one pass including tactile spot varnishing and cold foiling.
In the Digicon range, ABG is exhibiting a high-spec machine for top-end beverage applications, which features two flatbed screen heads as well as 50-ton and 25-ton foiling heads, plus a new-look Vectra SGTR turret rewinder; there is also a new entry-level Digicon Lite with semi-rotary flexo.
The Digilase 4.0 Laser System is billed as being perfect for direct from web sticker production, with a reduced web path and a decrease in necessary lead in/out material both reducing waste. According to ABG, the minimum job length has been cut in half and file downloading takes milliseconds, allowing several jobs to be processed at the same time from unwinding to laser cutting and rewinding.
ABG's new modular B5010 Booklet Machine design is equipped with a feeding system, which the company says can be adjusted quickly and easily to various booklet dimensions; it also has a new, integrative concept of operation, which makes it possible to process up to 36,000 booklet labels per hour with a registration accuracy of +/- 0.5mm.
Two Digicon machines with fleyeVision camera inspection and editing capability are also on show. According to ABG, new developments now enable automatic selection, 100 per cent inspection and rejection of rolls with errors, with no interruption to production. Rejected rolls are then transferred to a small tabletop Omega Horizon rewinder roll mapping system to identify specific roll errors and individual doctoring.
Also on stand is a Ti 200 machine that creates RFID/EAS technology labels, featuring what ABG calls a total solution with chip checking device; and the SRI range of inspection slitter rewinders.