Latest Print21 arriving on desks
The latest issue of the nation's biggest and best-read print industry magazine Print21 is arriving on desks of print business owners and managers around Australia and New Zealand.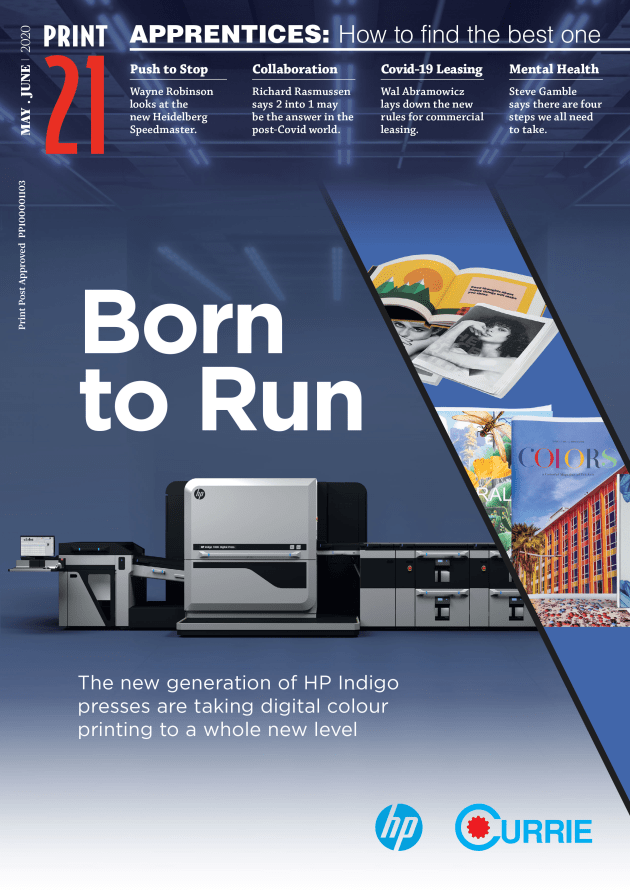 The May/June issue is packed with engaging features, with a focus this issue on new technology as the industry looks to print its way out of the Covid pandemic.
Print21 takes an in-depth look at the new portfolio of HP Indigo digital colour presses, which includes a 6000sph B2, a 120-metres-a-minute narrow web flexible materials printer and the digital carton printing press that comes with inline coater.
The government has thrown plenty at Covid, including the $150,000 instant asset write-down, we explain what it is, what is eligible, and look at some of the systems you can buy for less than $150,000. The selection may surprise you.
We check out progress in the battle to take government and taxpayer funded print out of China and back onto Australian presses. The May/June issue also looks at emerging markets, including digital carton printing; digital wall covering printing and embossing; and digital textile printing.
We feature a piece on collaboration as a key to growth from industry financier Richard Rasmussen, and a look at how to jump start your future from the Real media Collective.
We have a special feature on the new generation Heidelberg Speedmaster with its push to stop concept, and an in-depth look at the latest opportunities with Screen's digital colour print systems. The new Xekon Sirius is also featured. In finishing the top five Horizon buys are assessed.
Label printing has been a godsend during Covid, with many printers reporting spike in demand. This issue of Print21 looks the opportunities, talks to Wagner Labels which is seeing a surge I its digital printing.
Print21 gets the lowdown on how to pick a laminator, and how to find a good apprentice, and in business intelligence there are features on new laws on OH&S, the new situation with commercial leases.
With all the regular contributors in there as well the new issue of Print21 is a must-read magazine.