McPherson aiming to buy ACM Wodonga
The independent McPherson Media Group is aiming to buy Australian Community Media's Albury-Wodonga print plant, as the nation's newspaper printing continues to consolidate.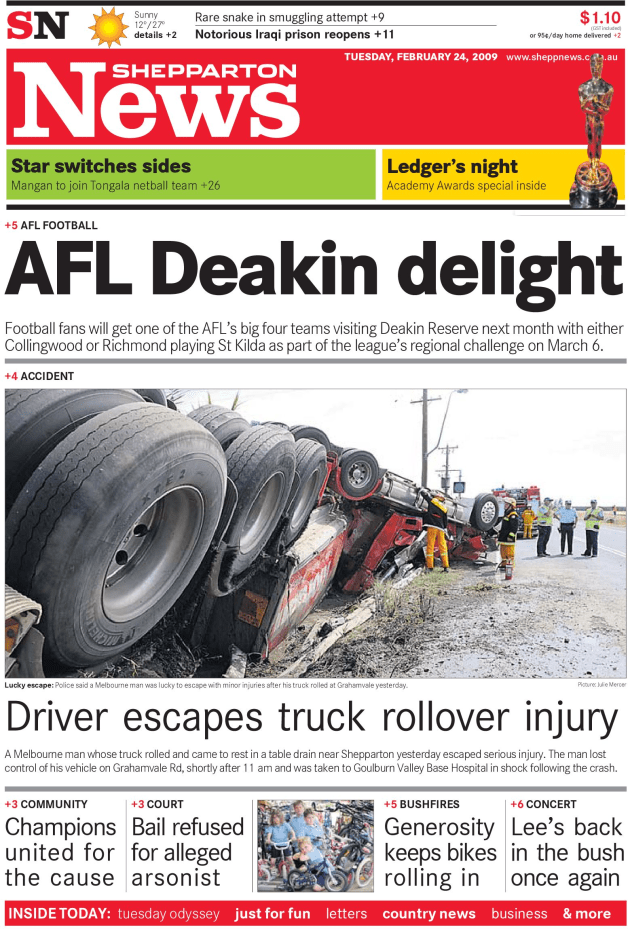 McPherson owns the nearby Shepparton Daily News. The company already has its own print plant, Newsprinters, also located in Shepparton, which produces, prior to Covid at least, around 30 tabloid newspapers each week in paginations of two to 112 pages. Its future, if McPherson's buys Wodonga, is uncertain.
ACM flagged that it was looking to sell its Wodonga plant early in the Covid period, along with its print plants in Ballarat, Canberra, and Murray Bridge in Adelaide. It will close the other three, leaving it with four of the nine print plants it inherited when it bought the business form Fairfax/Nine last June.
Industry insiders believe that ACM owner Anthony Catalano is looking to follow the strategy he had when he owned his magazine publishing business Metro Media, which was to be a publisher only while contracting out the print.
The remaining four plants include Tamworth in NSW, Launceston in Tasmania, Mandurah in Western Australia, and the jewel in the crown North Richard in NSW, which is currently printing for some independent publishers in Queensland, where News Corp owns the only newspaper presses.
Nine (formerly Fairfax) publisher of The Age, the Sydney Morning Herald and the Australian Financial Review, now has no print capacity of its own, and with ACM rapidly exiting print it will leave News Corp as the only newspaper printer of any size in the country. There are some independent newspaper print plants dotted around. News has plants in every capital city bar Perth.
News is currently building a new greenfield print plant in Truganina on the outskirts of Melbourne. When it opens next year, it will herald the closure of the ACM Ballarat site, with all News, ACM and Nine newspapers in Victoria printed at the new site.
ACM has said it is aiming to start printing between 50-60 of the 80 regional newspapers it stood down, once post-Covid recovery begins, which is in contrast with News, which has permanently closed 36 newspapers and permanently moved another 76 to online only.
According to Peter Coleman's newspaper industry website GXPress the Wodonga print site is modern, with a five-tower Goss Uniliner S 4x1 (double-width, single circumference) pressline that was installed in 2003 as the first one of its kind in the world, as a flexible press capable of printing 80 pages but in four around format.