Newspaper supplier AAP to close after 85 years
Australian Associated Press (AAP), the national news agency supplying stories to national and regional newspapers, is closing, unable to compete with the free information on the internet used by newspapers as they all struggle with costs.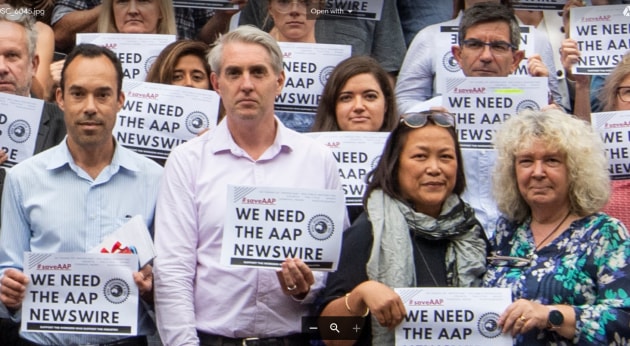 The AAP was a primary source of many news for the country's newspapers, supplying 200 local, regional and national papers. The newswire will stop at the end of June. The Pagemasters editorial production service will close at the end of August.
AAP in 2019 had revenue of $65.7m, posting a small profit after a $10m loss the year before. It has editorial staff of 180, all of whom will now be made redundant.
The board of AAP, chaired by News Corp's Campbell Reid, had met on Monday to consider the future of the news service. Reid said today: "The number of organisations choosing to no longer rely on the AAP service has made the business unsustainable."
AAP was founded by Sir Keith Murdoch, father of the media billionaire Rupert who created the global media group News Corp, starting from a newspaper in Adelaide left to him by his father.
The news agency's initial role was to provide international news to Australian newspapers, saving on expensive cable fees by bringing one story to Australia instead of each title paying. AAP then evolved into a true national news agency, providing domestic news, as well as international coverage, to metropolitan and regional newspapers, and later broadcast media, building a national team of reporters and editors. 
Pooling resources made sense for newspapers. Then the underlying business was based on the tyranny of distance. Today the internet, with its instant communication, has made distance an odd concept.
"The saddest day: AAP closes after 85 years of excellence in journalism," tweeted editor in chief Tony Gillies. "The AAP family will be sorely missed."
Nine, a major AAP shareholder, had signalled it wanted to cut its payments to AAP, with CEO Hugh Marks last week describing the news agency as a "big cost" area. AAP is owned by Nine, News Corp Australia, The West Australian and Australian Community Media.
National news agencies are under pressure throughout the world, caught in the same digital disruption that media owners face. The New Zealand Press Association closed in 2011 and AAP closed its New Zealand Newswire in 2018.