Océ brings out Colorado 1650 across country
The new Océ Colorado 1650 roll-to-roll wide-format production printer is about to roll out across Australia following its debut at PrintEx, where it won a Print21 Hot Pick.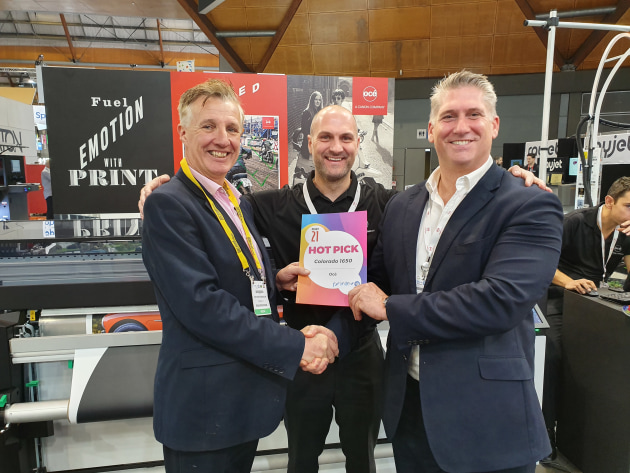 New stock is on the water and, according to Garry Muratore, product manager for Graphic Arts at Océ Australia, technical training is also underway to meet high demand from customers at PrintEx.
"When the Colorado 1650 was launched at Fespa earlier this year, our intention was to introduce it to Australia as soon as practical. PrintEx gave us that opportunity.
"The machine we had on stand was one of the first to be released outside of Europe, and those who took the opportunity to see it in action immediately appreciated its advantages. In fact, several business owners indicated to us that they came to the show specifically to see the 1650, keen to find out if the hype was justified – and they weren't disappointed," he said.
Deals within the double-digit range are expected to be contracted by Christmas, says Muratore, with more to follow next year. The first customer installations began this month, and demonstration units have also been placed into Océ technical centres in Melbourne and Sydney.
"We've probably had as much interest in this machine as any we've ever released, so we've been working hard to ensure we have adequate stock and to ensure we are well prepared to support the new model," he said.
The 1650's predecessor, the Colorado 1640, also won a Print21 Hot Pick when it was exhibited at PacPrint 2017, with the editorial team impressed by its gel-based ink that pinned instantly to media.
"The Colorado 1650 takes this further, with a new, more 'stretchable' ink formulation which provides perfect image stability, even when folded, bent or wrapped, and the ingenious Océ FLXfinish technology which allows printers to choose between high gloss or deep matte finishes, without changing inks or media," said Muratore.