Ovato Aldi job takes Judges' Choice at RMC awards
The Judges' Choice Award at the Real Media Collective Awards on Friday night was the Aldi Supermarkets 'Christmas: The More the Merrier 18' catalogue, printed by Ovato.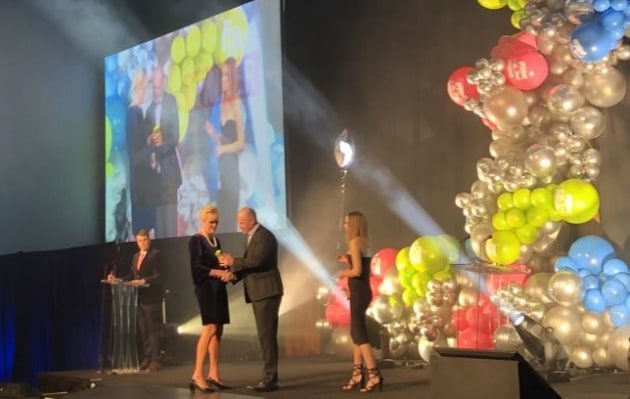 The 40pp Aldi catalogue, with an undisclosed print run in the millions, was one of many award winning entries printed by Ovato, which also included a batch of Woolworths jobs. Adrian O'Connor, CEO Print & Residential Distribution at Ovato said, "Ovato's clients dominated on the night, taking home over half of all awards", adding, "The energy, talent and passion for print was great to see.
"It is about the clients, it is a great night for them, a recognition of all the work they put in to the catalogue before we get the files."
IVE Group was the other major printer seeing its catalogues on the winners podium, with its Coles print products praised by the client. Natalie Taylor, national sales director at IVE divisions Blue Star Web and Franklin Web said, "What a night of celebration at the 2019 Real Media Awards, proudly sponsored by IVE. TRMC team yet again smashed it out of the ball park with an amazing awards night rounding out a stellar year in retail catalogues, magazines and publications. Well done to all the finalists – you should be very proud. A massive congratulations to all the winners especially our amazing customers taking home gold."
Apart from IVE and Ovato other companies printing gold-winning jobs included Bambra Press, Complete Colour, Colour Solutions, Colourwise, Cornerstone, Digitalpress, Green & Gold, Gunn & Taylor, Kosdown, Print Lounge, Rooster IMC, Southern Colour, and Taylor'd Press.
The awards celebrate the best in direct mail, letterbox marketing, publishing, point of sale, and marketing in Australia and New Zealand.
Sponsors of the awards (formerly the Australian Catalogue Awards) included Ovato, IVE, Ball & Doggett, Salmat, HP and Currie Group, Norske Skog, Stora Enso, and UPM.