Pantone back to basics with 2020 Colour of Year
With the turn of the decade almost upon us, Pantone has unveiled the 2020 Colour of the Year – 19-4052 Classic Blue – which it says reflects a desire for a stable foundation to a new era.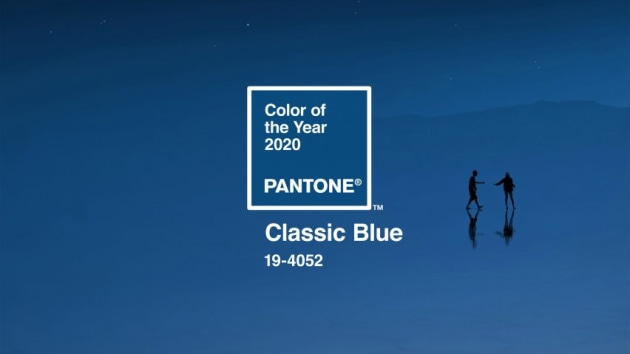 In a departure from 2019's Colour of the Year, 16-1546 Living Coral, which was described as 'bright and optimistic' and representing the fusion of modern life, Classic Blue is billed as 'timeless', 'elegant in its simplicity', and 'suggestive of the sky at dusk'.
In an age of 'fake news' and global crisis, Leatrice Eiseman, executive director of the Pantone Colour Institute, said Classic Blue brings a sense of trust, peace, and tranquillity.
"We are living in a time that requires trust and faith. It is this kind of constancy and confidence that is expressed by Pantone 19-4052 Classic Blue, a solid and dependable blue hue we can always rely on.
"Imbued with a deep resonance, Pantone 19-4052 Classic Blue provides an anchoring foundation. A boundless blue evocative of the vast and infinite evening sky, Pantone 19-4052 Classic Blue encourages us to look beyond the obvious to expand our thinking; challenging us to think more deeply, increase our perspective and open the flow of communication," she said.
Pantone also describes Classic Blue as the first multi-sensory colour of the year. Laurie Pressman, vice president of the Pantone Colour Institute, said Pantone has collaborated with sensory experts in music, food, fashion, beauty and technology to envision Classic Blue with the other four senses: as a smell, a taste, a sound, and a feeling in addition to a sight.
"As we all head into a new era, we wanted to challenge ourselves to find inspiration from new sources that not only evolve our Colour of the Year platform, but also help our global audiences achieve richer and more rewarding colour experiences.
"This desire, combined with the emotional properties of Pantone 19-4052 Classic Blue, motivated us to expand beyond the visual, to bring the 2020 Pantone Colour of the Year to life through a multi-sensory experience," said Pressman.
The closest match for Classic Blue in the Pantone Matching System is 2154 C, which can be achieved in CMYK with C=100 M=65 Y=0 K=27; in RGB with sR=0 sG=70 sB=128; and in HTML (as seen here) with 004680.
Classic Blue is the first blue to be named Colour of the Year since 2016's 15-3919 Serenity, which shared the role with the pink 13-1520 Rose Quartz.
Blues have also marked the turn of the last two decades, with 15-5519 Turquoise serving as the 2010 Colour of the Year and 15-4020 Cerulean being named the first ever Colour of the Year in 2000.
Other past blue Colours of the Year include 15-5217 Blue Turquoise (2005) and 14-4811 Aqua Sky (2003).
Previous Pantone Colours of the Year:
Pantone 16-1546 Living Coral (2019)
Pantone 18-3838 Ultra Violet (2018)
Pantone 15-0343 Greenery (2017)
Pantone 15-3919 Serenity and Pantone 13-1520 Rose Quartz (2016)
Pantone 18-1438 Marsala (2015)
Pantone 18-3224 Radiant Orchid (2014)
Pantone 17-5641 Emerald (2013)
Pantone 17-1463 Tangerine Tango (2012)
Pantone 18-2120 Honeysuckle (2011)
Pantone 15-5519 Turquoise (2010)
Pantone 14-0848 Mimosa (2009)
Pantone 18-3943 Blue Iris (2008)
Pantone 19-1557 Chili Pepper (2007)
Pantone 13-1106 Sand Dollar (2006)
Pantone 15-5217 Blue Turquoise (2005)
Pantone 17-1456 Tigerlily (2004)
Pantone 14-4811 Aqua Sky (2003)
Pantone 19-1664 True Red (2002)
Pantone 17-2031 Fuchsia Rose (2001)
Pantone 15-4020 Cerulean (2000)