Printers downing tools for climate action
Australian print business owners are among those joining the global strikes today in support of greater action on climate change.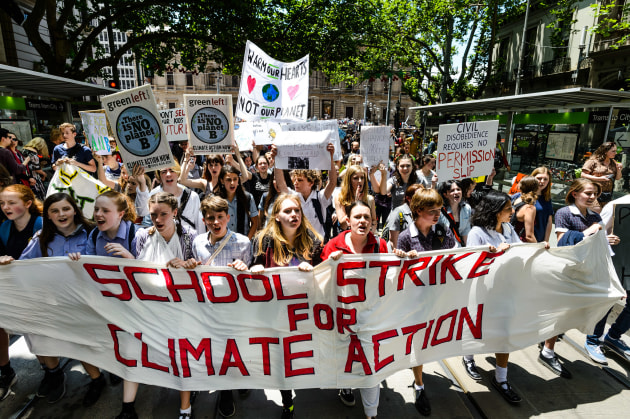 Black Rainbow Printing, based in East Gippsland in Victoria, and photobook printer Momento Pro in Sydney, are among the printing companies that are shutting up shop for the day and joining the protests around Australia.
Charlie Daniel, owner and founder of Black Rainbow, says his company has been an environmentally-friendly printer since it was founded in the 1980s.
"One of our chief motivations is to have environmentally-responsible print available to the community and to the market. We use non-toxic inks, one hundred per cent solar power in production, and one hundred per cent post-consumer recycled, recycled, and FSC-certified papers.
"Environmental consciousness is growing at the moment, which shows through these climate strikes – it's a natural thing for us to be involved in," he said.
Six staff from Black Rainbow will join the local strike in Bairnsdale, and Daniel says all the local schools, as well as other businesses, are participating.
"I think we'll have a great turnout in rural Victoria. There's a lot of support among farmers, businesses, and particularly young people who want to see action happen," he says.
Daniel encourages other printers to support the strikes and other environmental actions.
"Printers are increasingly an eco-conscious bunch, as you can see by the increase in recycled papers, solar power, and non-toxic inks which have become a standard for the printing industry," he said.
Geoff Hunt, managing director and founder of Momento Pro, said he gave his staff the equivalent of a conscience vote on whether or not to participate, and that founders and senior management will be at the Sydney strike.
"The impact of climate change is clear globally, and if we can lend our voices, that adds to the people power. I consider it important enough that staff can have time off to do this," he said.
According to Hunt, despite a small amount of backlash from customers, feedback has been overwhelmingly positive.
"The majority of our customers are on-side, and we're going out of our way to make sure we don't delay anyone's product. The team is working extra hard to make this possible," he said.
The Not Business as Usual alliance, of which Black Rainbow is a member, comprises hundreds of Australian and global companies that have pledged to support the climate strikes; other members include online print-on-demand marketplace Redbubble.
The strikes are expected to attract at least 35,000 people nationwide, though organisers say that number could top 200,000.