PrintEx attracts 5000 guests, generates millions in sales
This year's PrintEx show attracted 5000 printers, and recorded millions of dollars in sales over the four-day event, which saw digital printing take centre stage.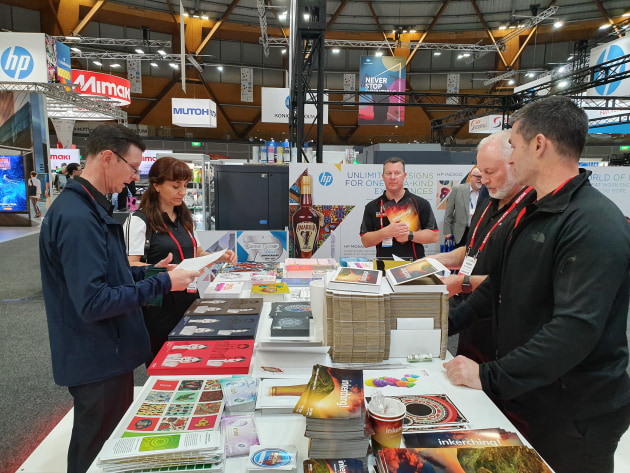 The year's leading B2B show for print, sign, display, labels and packaging saw 120 suppliers exhibit over some 6000sqm of exhibition space at the Sydney Showground.
Of the exhibitors 21 received Print21 HotPicks, given for innovative technology on show that brings something new to the table. Biggest sale at the expo was signed by Courtney Colour, which invested $2.5m with Currie Group.
While overall visitor numbers at the show were some 15 per cent down on 2015 – just over 5000 visitors attended this year – Visual Connections CEO Peter Harper says the figures were only a little below expectations, particularly given the continuing consolidation of the industry over the past four years.
"Predicting visitor numbers, particularly in this sector, is always difficult, but we're satisfied with the attendances except, perhaps, from the sign and display sector, where numbers were down significantly – a great pity given the show was full of solutions for this market," he remarks.
The organisers said the showcase included something for everyone, from automation and workflows, to product verification, AR innovations, wide-format and 3D printers, automated booklet production, media and substrates, flexible packaging and labelling solutions, textiles and DTG technologies.
The PrintEx Forum Series – including a dedicated Label & Packaging Show programme – delivered a valuable complement to the expo, kicking off each morning with Business@Breakfast and featuring a range of masterclasses, panel sessions and workshops during each day.
Proceeds from the breakfast sessions, together with the auction at the 36th National Print Awards of a painting completed at PrintEx19 by artist James Patrick, also raised funds for the show's two charities of choice - $4,415 to Man Anchor and $2,815 to Share the Dignity.
Aisles seemed less busy, but it should be noted that exhibitors requested an extra day be added to this show, so the spread of visitors across four days, rather than three, may have played into a perception that numbers were down. The steady stream did, however, deliver less wait time and more relaxed discussions on stands – something remarked upon by both visitors and exhibitors.
Rounding out the visitor cohort were some 200 students, there through Visual Connections' partnership with Re-Engineering Australia (REA), as part of an ongoing initiative to address skills shortages by encouraging young people to consider career opportunities in the industry.
Other than the students, PrintEx chair Jeremy Brew confirmed that crowds were, as usual, dominated by business owners, CEOs, MDs and senior management, intent on maximising the opportunity to negotiate deals – and negotiate they did, with business transacted at the show expected to run well into the millions.
"PrintEx19 lived up to its reputation as a 'decision makers' show, with industry decision makers taking advantage of the opportunity to make new connections, discuss options with the experts and get a handle on trends – all vital factors in making important investment decisions," Brew says.
And, while feedback so far has been overwhelmingly positive, the real measure of the show's success will not be seen for some time, he points out.
"The real value in a show like PrintEx is that businesses leave better equipped to plan their future with confidence and continue to build the success of our vibrant and exciting industry," Brew says. "That's what makes for a successful show – and we believe it was delivered during PrintEx19."