PrintEx News: Batt buys Iridesse for MBE Parramatta
Charles Batt, owner of MBE Parramatta, has purchased a new Fuji Xerox Iridesse Production Press on the Fuji Xerox stand at PrintEx.
Signing the deal Batt was presented with a Certificate of Appreciation and champagne by Fuji Xerox. Batt already has a Fuji Xerox Color 1000i Press, however he said with demand for silver/gold/clear increasing, the Iridesse became the attractive solution.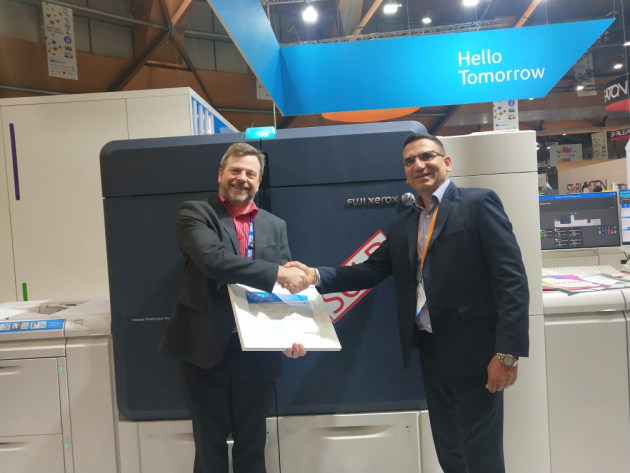 Batt also has existing MBE Parramatta customers demanding white, which the Iridesse will enable him to meet.
Batt's Parramatta MBE has just won the franchise group's Franchise of the Year award. Batt started his store 13 years ago, and now has one of the most successful print franchises in the country, built on developing client relations and developing multiple revenue streams.
"It's exciting because there are a lot of great operators around the country and to get selected is a fantastic recognition of all the work we put in," he told Print21.
Annual turnover is in excess of $1m, with the company having the biggest store of any MBE operation in Australia.
"Our revenues are the highest in Australia, but it's not about revenue – it's about who represents the franchise best across the group, and the only ones with visibility of that are at head office," said Batt.