PrintEx News: EFI shows off hybrid LED inkjet
EFI is exhibiting the h3 hybrid LED inkjet printer, which it bills as its most advanced yet, on stand D7 at PrintEx.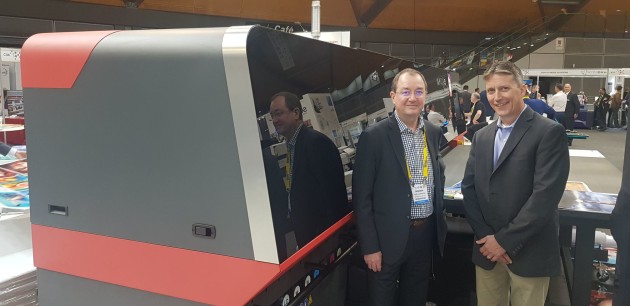 The h-series, which is available in two models, is EFI's mid-range platform designed for premium-quality sign and graphics production, according to Rodd Harrison, Asia Pacific vice president for EFI.
The h3, which produces up to 74 boards per hour in eight-colour or four-colour plus white and lays down five print layers in a single pass, can be extended to increase throughput according to a printer's needs.
Harrison said the ability of the h3 to print means that high quality can be achieved in Express mode with the X4 four-colour printer thanks to a 7pl inkdrop. Harrison said, "High speeds for high quality print means that h3 and h5 users significantly increase their capacity.
"The Vutek h3 model can be upgraded to a EFI Vutek h5 model on site. With the upgrade, users can get even greater speed and capacity – up to forty-seven per cent higher productivity with top print speeds of one hundred and nine boards per hour," he says.
"Being able to upgrade in the field is a first for EFI," says Harrison. "It enables our customers to future-proof their businesses. They can confidently increase capacity when their business growth requires it, without the need to buy a new printer or compromising on speed or quality."
"The 3.2m-wide h-series builds on EFI's legacy as the leading provider of sustainable 'cool cure' production LED inkjet printers while establishing new benchmarks for productivity and profit opportunity," says Harrison.
Software is also being highlighted on the stand, including Market Direct Cross Media and Market Direct Store Front; EFI Pace; and Fiery automation tools such as JobFlow and Impose.