PrintEx News: Esko connects packaging
Esko is demonstrating its new Packaging Connected philosophy at stand S28, including a live display of the Kongsberg C24 cutting table.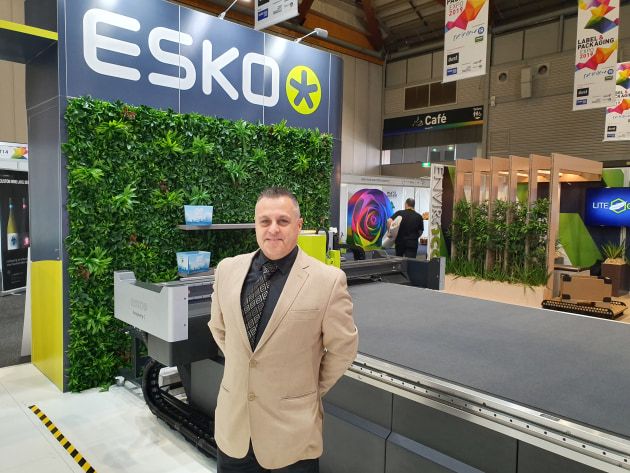 The Packaging Connected motto is an evolution of Esko's previous Packaging Simplified focus, says Scott Thompson, regional marketing and channel manager at Esko.
"We've simplified a lot of our products, we had that goal of simplification of packaging. We're now into the Connected theme, that's where we're taking things now.
"It's about how we're helping customers out of that reactive stage and into that intelligent and connected stage. We're speeding up processes, reducing manual steps, duplicating data entry, and enabling not just internal but external communication between all stakeholders of a product," he said.
The Kongsberg C24 cutting table is one key attraction, able to hook in to software solutions such as ArtiosCAD for a high level of automation, says Thompson.
"It is still the fastest production digital finishing solution on the market today. What sets it apart is the stability of the table itself, and the driving system behind it. The software and the intelligence of it is a big part of that, and how we can feed this table and streamline everything that hits it.
"We can send a file directly to this table, and the table will automatically understand the material it's built with, it understands which knife, which blade, which speed is needed to produce that file, and it will all happen without the touch of anyone on the table," he said.
Thompson adds that the Kongsberg's system removes the need for expensive operator training.
"It's great to have an expert running the table, but it doesn't need to be an expert. We take that expertise and the packaging intelligence and knowledge we have, and put it into the system itself," he said.
Beyond just software and hardware, Esko's service offering is another highlight of the stand, according to Thompson.
"Using our technique of value stream mapping, we're able to show potential customers how, by mapping out their complete workflow, we can pinpoint parts of their business and see where they are on a digital model scale.
"We're able to work with a customer – not just sell them a piece of software or equipment, but work with them – to come up with a solution," he said.