PrintEx News: Mutoh launches XpertJet printers
Mutoh used the show to launch its new XpertJet range, which will succeed its long running ValueJet eco-solvent printers.
The range includes the XpertJet 1641SR, a single-head, four-colour model using Mutoh's new MS41 eco-solvent ink and designed for high-quality low-volume print; and the XpertJet 1682SR, a staggered dual-head model with seven colours, designed for high-quality high-volume print.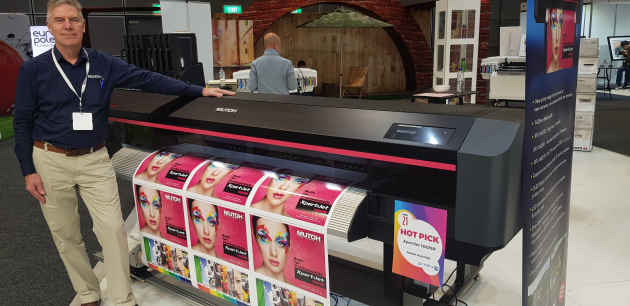 According to Russell Cavenagh, general manager of Mutoh Australia, the XpertJet range has been engineered from scratch to meet the needs of professional wide-format printers.
"These printers are designed from the ground up for professionals. New extrusions, new screwless platen, new cosmetics. It's not just changing the colour, it's all-new," he said. "We also have the new Dropmaster 2 technology on board, which has automatic allowance of media thicknesses to ensure nice sharp printing regardless of substrate thickness."
Other new features of the XpertJet range include a "high-precision" aluminium rail mechanism; front access to ink cartridge holders and LAN and power cables; internal LED lighting; a built-in colour sensor for automatic bi-directional adjustment; and the Mutoh Status Monitor, which allows remote monitoring of the printer's operation status with a smartphone or tablet.
Mutoh's existing ValueJet eco-solvent range to be phased out; other ValueJet products such as UV textile printers will remain on sale.
"The ValueJet range has been around for a long time, and the XpertJet range is a significant shift – it's a whole new printer model, a new breed from Mutoh, and one we think our customers are really going to like," said Cavenagh.
Mutoh is offering a new resin-based ink, MP31, which for a water-based ink offers long outdoor life, two phrases that general manager Russell Cavenagh says "do not usually go together", but in this case do. MP31 shows the characteristic of the substrate.
In textile printing, Mutoh has both direct to garment and dye sublimation systems, with its ValueJet 1948WX able to print 125sqm an hour of dye sub paper. Mutoh will also likely show its ValueJet 1938TX direct-to-textile printer. Cavenagh says, "Textiles is a growth opportunity, and Mutoh has solutions for whatever approach a printer wants to take."
For UV printing, the recently released 1600mm wide, twin head, twin LED UV lamp VJ-1638UR will be displayed, printing on a wide variety of media to show its versatility for sign and display.
A star attraction will be the debut of the ValueJet 628MP printer, which features CMYK plus white with unique resin-based inks and a hot air knife media drying system. This allows direct printing on a variety of white, transparent, and coloured roll substrates, says Cavenagh.
"The new Mutoh VJ-628MP is equally suited for sign and display print shops to produce both indoor and long-term outdoor prints, as well as for graphic companies looking for a digital solution for proofing or short-run production of packaging prototypes or customised labels, even for industrial businesses specialised in thermo-forming," he says.