PrintEx News: Skyline buys JetVarnish 3D digital embellishment
Skyline Printing has bought the MGI JetVarnish 3D digital embellishing system from the Konica Minolta stand, having seen it the previous day when it bought a new Konica Minolta 3080 digital colour press.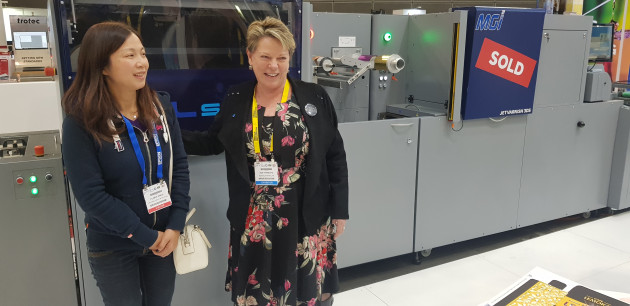 Owner of Chippendale-based Skyline Flora Zhao told Print21 that, "We saw the JetVarnish and it became apparent to us that it would be perfect for our clients and would help us drive the business forward.
"Its ability to produce raised spot UV and to foil, all digitally, is a great fit for us. We work with a lot of corporates in the CBD. When I came on the stand to buy the 3080 and was taken around the JetVarnish I was happy, I could see straight away it was just what we needed.
"Our clients need high quality, with a luxury look and feel, and they need it quickly. The JetVarnish will enable us to provide an on-demand service," she said.
The JetVarnish 3D is manufactured by MGI, with Skyline investing in the SRA3 version of the system. MGI vice president Kevin Abergele is at PrintEx.
Sue Threlfo, general manager Production Printing at Konica Minolta said, "Congratulations to Skyline. The JetVarnish is a real value-add solution, which will enable Skyline to strengthen its position in the market and get closer to its clients."