PrintEx: Oki to launch digital label printer
Oki Australia is launching two new toner-based label printers: the Pro 1040 CMYK and Pro 1050 CMYK + white, which are aimed at the burgeoning craft food and beverage markets.
The LED printers will be available through Labelpower and Gulmen Engineering, and will be on the PrintEx stands.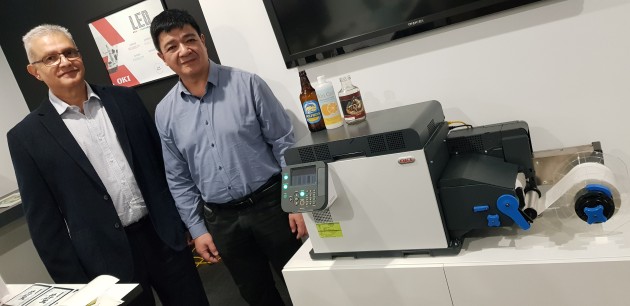 Jeremy de Silva, marketing manager at Oki Australia said, "The Pro1040 and Pro1050 narrow-format label printers have been developed specifically for the growing market of users who need on-demand label printing that is easy to set-up and requires minimal training to use."
According to de Silva, the Pro1040 and Pro1050 will bring greater print freedom to customers, providing full control over the label printing process which is typically outsourced. He said, "Converters who require short run production will also find these printers beneficial. Users will benefit from a wider choice of label designs with a lower print-volume/high SKU mix, reduced pre-printed label stock and reduced wastage. The ability to print in-house will also remove the necessity to wait for consignments of externally printed labels to arrive."
The printers provide the ability to print on a wide range of materials in professional four or five-colour finishes. The Pro1040 prints in CMYK, whilst the Pro1050 prints in CMYK plus white (CMYK+W).
With the white toner, users have the added advantage of printing on transparent or coloured label media – this is done by printing an opaque white background under the CMYK image, making, de Silva said, "the printed results even more eye-catching."
The printers are able to print on a vareity of roll widths onto standard stocks. Becasue they are LED there are few moving parts. They print onto standard label materials, including synthetics. RRP is $11,475 for the four-colour version, $15,945 for the five colour with white printer.
Printing is single pass, media takes 30 seconds to replace a roll.