Printgraphics installs second B1 Komori long perfector
Melbourne commercial business Printgraphics Printgreen has installed its second Komori B1 long perfector, and is throwing its doors open to the market with an Open Week from Monday.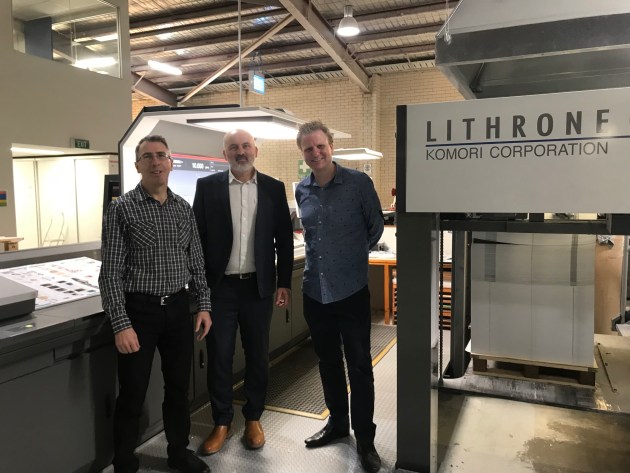 Founded 40 years ago by Ray Keen, the company has just put in a B1 eight-colour Komori G40 perfector, to run alongside the ten-colour B1 Komori, which is itself a recent addition. Both are supplied by local agent Print & Pack.
Nigel Quirk, one of the directors of the business said, "We are investing for the future. We are travelling well, and saw the benefit of adding a second B1 perfector to our firepower."
Printgraphics is currently running 24 hours a day, five days a week, with weekends being increasingly used. Quirk said, "The new perfector replaces a six-colour, so will give us additional capacity."
The company has around 50 staff, a large of number of whom, 10, are account managers. Quirk says, "We operate in a classic way, we really look after our clients, we spend time with them, we take them hard proofs, it is a face to face approach."
In addition to Keen and Quirk other shareholders and directors are Sam Keen, Ray's son, and the managing director Mark Terrill. Its work is a fairly even four-way split between publications, retail, government and NGOs. The majority of business comes from Melbourne, with 10-20 per cent sourced from interstate.
Quirk said, "We have had Komori presses for the past 20 years or more, however we go through a full cost and environmental analysis when we look at installing a new press, which we did this time around. The Komori's quality, reliability and environmental focus aligns with our requirements. Having two presses from the same manufacturer also works for us as it gives us workflow flexibility."
The company has full prepress and finishing in-house, with both saddle stitch and burst binding.
Next week's open house is designed to give clients a feel for the new equipment and the capabilities of the business. Quirk said, "We have always had a policy of transparency. We encourage the clients to come in and see how we work, see what their jobs look like as they go through the process. Next week just about getting them onto the new Komori, letting them see what is involved."
Billed as an "immersive experience" guests to the open house will be taken on a tour of the business, they will get to drive the new Komori, and will enjoy food, drinks, networking, and receive a gift from the day.