Public debut for printed solar panels
The budding printed solar panels concept is one step closer to commercialisation, with a demonstration project now in place at a Sydney shopping centre. If successful, the renewable energy project could be a boon for printers.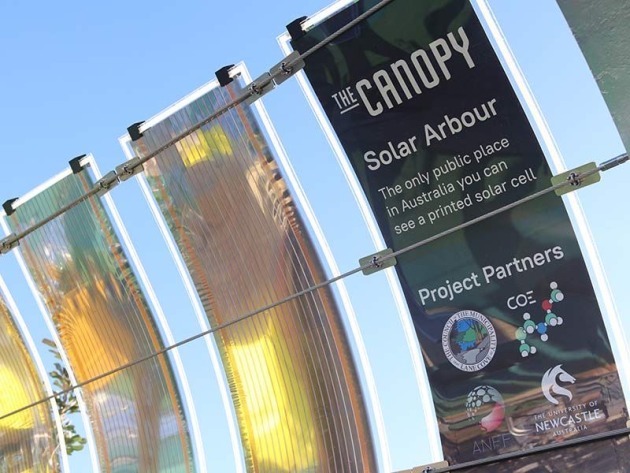 Led by professor Paul Dastoor at the University of Newcastle, the project aims to produce ultra lightweight film-based solar panels printed on PET using a conventional narrow web flexo press. The printed panels will create energy from sunlight, with no moving parts, no waste, and will be fully recyclable.
The lightweight solar cells can be produced at a cost of less than $10 per square metre on standard narrow web presses, which can produce kilometres of panels every day. The ultra lightweight film is secured with ordinary double-sided tape.
Dastoor said, "You don't need specialised equipment – we used a conventional reel-to-reel press that is normally used to make wine labels."
Standard solar panels weigh around 15kg a square metre and are not suited to non-flat surfaces; Dastoor's panels can be stuck to non flat surfaces and weigh next to nothing.
The team dubs it "the technology that will power a new generation". Dastoor says the new technology is a coupe of years away from commercialisation. It was first seen by printers in concept at PacPrint 2017.
"No other renewable energy technology can be manufactured as quickly. The low cost and speed at which this technology can be deployed is exciting as we need to find renewable energy solutions, and quickly," Professor Dastoor said.
Located at the Lane Cove shopping centre The Canopy, the panels are on a walkway, and are used to power the entire set-up. The sunlight taken during the day is stored in batteries for use at night in an interactive display.
In something more akin to a scene from Red Dwarf, visitors to the installation will be treated to a one-on-one augmented reality experience featuring an immortalised, holographic Professor Dastoor.
"Compared to familiar energy technologies, this material has almost a surreal quality – it's supremely light, hyper-flexible and incredibly thin. As this will be the first time people interact with this material unaccompanied, we wanted to create a way for one of our Centre for Organic Electronics (COE) scientists to be there to provide interpretation, and so in one of the stranger moments of my career thus far, I have become a hologram," Professor Dastoor said.
The low-cost, light weight, flexibility and durability of the material are inspiring a range of possible applications including disaster relief and recovery applications; retractable recharging systems for electric vehicles such as caravans/camping and the defence industry; floating covers for dams and pools; yacht sails; smart blinds for residential and high-rise buildings; greenhouse covers; and more.
Professor Dastoor said his goal was to coat as many surfaces as possible with the material. "Imagine a world where everyone has access to electricity, and where every surface can generate clean, low cost, sustainable energy from the sun. That's a world I want to live in," he said.