Ricoh launches new entry-level digital colour printer
Imaging giant Ricoh is launching the Pro C5300s, a new entry-level digital colour printer, which draws much of its technology from its well-established big brothers; the Pro C7200 and Pro C9200.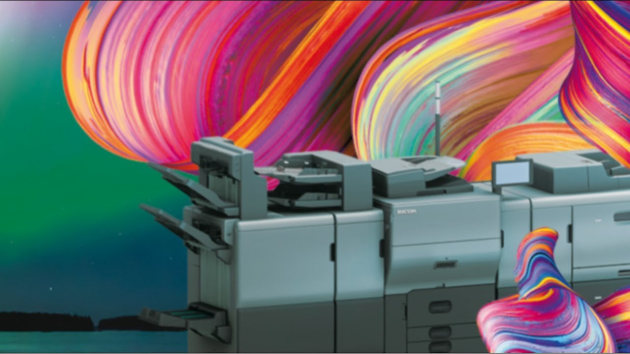 Ricoh is targeting commercial printers, copy shops, and franchises with its new Pro C5300s digital colour print system. The company is pitching it as an entry-level printer, but with the functionality of its high-end siblings.
The new Pro C5300s supersedes the 5200 but is a different animal altogether. The 5200 was aimed mainly at the in-plant market. The new model caters for that, and also has commercial graphic arts capabilities, thanks to its feeder, consistent image quality, and inline finishing options.
Henryk Kraszewski, product marketing manager at Ricoh, said, "The new printer is the same compact size, but has commercial functionality. Ease of use means it will appeal to print business owners who want to have real flexibility of product, who want to be able to produce a wide range of printed jobs inline, with minimal operator skillsets.
"The new 5300 S will produce everything from regular brochures – saddle stitched and folded – to 1.26-metre banners, to envelopes and NCR sets. It is a real workhorse for any print business, but at an entry-level price."
The price of the engine itself remains unchanged from the previous model, with final investment figure depending on the options taken.
Kraszewski says, "Its compact design, its print quality and its versatility of substrate mean it is a significant step up, and well suited to commercial applications. It still has all the connectivity of the previous model."
New to the format is the vacuum feed table found on the Pro C7200 and Pro C9200 models, which come with mechanical registration beloved of printers everywhere. It will print on stock up to 360gsm, with no loss of rated speed for anything up to 250gsm. Stocks include synthetic and textile papers. It prints duplex at the same speed.
Key benefits of the enhanced system include high image quality, with Ricoh 2400 x 4800dpi VCSL technology, and new gloss control to address different image output demands. It has high productivity with a speed of up to 80ppm and a monthly duty cycle of 450,000. The vacuum feed large-capacity tray supports a wide range of substrates.
There is improved front-to-back registration, due to a new paper pass control system, and there are mechanical registration controls. The new Pro C5300s comes with wider variety of post-press capabilities, enabling responsive service delivery, supported by peripherals, including an enhanced booklet finisher capable of 30-sheet booklet production at 80gsm. Versatile end-to-end production is further aided by its high capacity stacker and efficient fore-edge trimmer.
Kraszewski says, "Having an entry-level press that is capable of producing such a rich variety of work, but with ease of operation, is testimony to the great work of the Ricoh research and development teams. They think through everything so carefully."
The Pro C5300s will be available to see in the company's head office as soon as a refurbishment of the showroom has been completed, which should be by the end of the month.