Roland DG launches large format flatbed
Roland DG is launching the IU-1000F large format UV-LED flatbed printer in Australia, its first flatbed printer. It can print onto sizes up to 2.510 x 1310mm on a variety of substrates.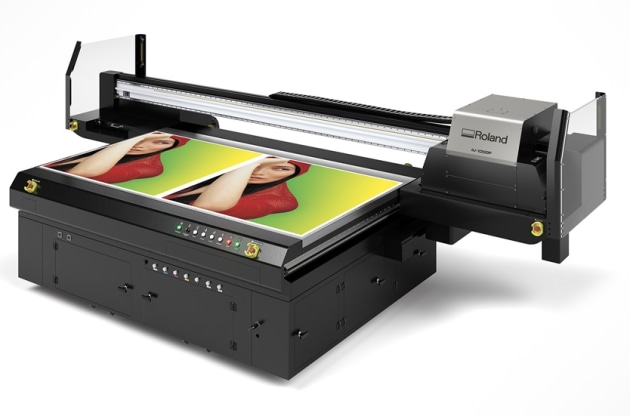 The IU-1000F can print 15 boards an hour in typical size 1220 x 2440mm in standard print mode for typical point of purchase display applications. For applications requiring higher image quality, the quality print mode will produce approximately 10 sheets per hour.
Equipped with 12 high-performance printheads in a staggered three-row arrangement, the IU-1000F can print up to 635 x 1800dpi with variable droplet technology, which can simultaneously fire three sizes of droplets at high speed.
The IU-1000F employs UV-LED flatbed printing technology to print directly on various materials and objects, including rigid boards up to 110mm in height and 45kg/sqm in weight.
The exclusively-developed, high-density Greenguard Gold certified UV inks in CMYK, Gloss and White cure instantly and deliver stunning graphic results. A Primer ink option allows for even greater adhesion, making it easy to prep and print on challenging materials like acrylic, glass and ceramic. Users can incorporate the Gloss and White speciality inks to enhance their prints with a host of eye-catching textural and dimensional effects.
The IU-1000F has a number of new functions to optimise efficient performance, including an ionizer that removes static electricity, a versatile print bed that can handle materials of various sizes, from one large board to multiple small panels, and media alignment pins to easily align materials to be printed.
"With the life cycles and requirements for outdoor and indoor advertising, event decorations and store displays being shorter and more diverse than ever, there's a growing need for the new IU-1000F," Greg Stone, Roland DG Australia product and marketing manager, said.
"This cutting-edge, high-production UV flatbed enables shops to respond effectively to increasing output demands and shorter turn-around times. It offers breakthrough print speeds, exceptional image quality, and outstanding material compatibility, allowing for high-volume, high-impact graphics without the need for mounting and drying processes."