Roland DG launches uncharted colours TrueVis VF2-640
Wide format solutions developer Roland DG is launching its first printer-only TrueVis, the VF2-640, which it says takes printers into an "uncharted" colour gamut thanks to the addition of its new green ink.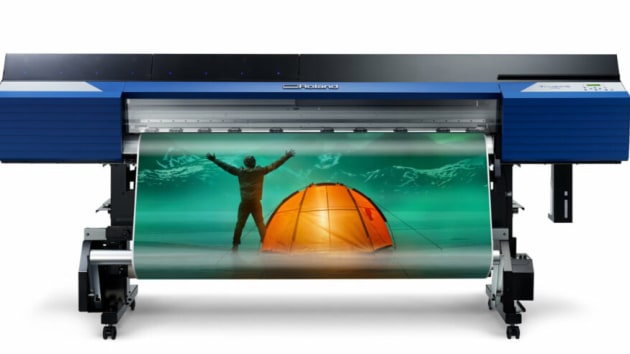 Roland DG says that as the first print-only model in the TrueVis series, the VF2-640 inherits a host of functions from the TrueVis VG2-640 and VG2-540 printer cutters released a year ago.
The VF2-640 features a new TR2 green ink, that according to Roland DG, when combined with vibrant orange ink as process colours, enables unprecedented gamut expansion and richer visual expression.
The VF2-640 also comes equipped with the what Roland DG says is the advanced True Rich Color preset, that maximises the potential of both printer and ink. Kevin Shigenoya, vice president, digital printing business division, Roland DG said, "Vibrant colour can now be combined with neutral greys, smooth gradations and natural skin tones that will amaze customers."
The VF2-640 is a 1.6m-wide, 1200dpi roll-to-roll printer, which can be configured with up to eight colours, and is designed for applications including signs, backlits, posters and vehicle wraps.
It runs Roland's Greenguard Gold-certified TR2 inkset, and can use CMYK plus a choice of light cyan, light magenta, light black, orange, green, or white.
The VF2-640 incorporates Roland DG's innovative FlexFire printheads for what Roland DG says is high-speed, high-precision ink firing, a new media take-up unit with increased stability for smooth post processing according to the type of media chosen, and the Roland Color System Library for what the company says is quick and easy colour matching of target colours. When paired with Roland DG cutting devices, print and cut data can be automatically processed by the included VersaWorks 6 rip software for efficient production of stickers, labels, floor signs, and graphics.
"Roland DG is committed to delivering high-quality products that expand the horizons of digital printing with uncompromising visual expression," Shigenoya said. "As confirmation, the TrueVis series continues to be the most highly regarded wide- format inkjets by customers and key industry organisations, as well as by the world's leading independent provider of testing and analysis for the document imaging industry. In the last year alone, TrueVis inkjets were the recipient of seven major industry awards*. I know that the VF2-640's ability to deliver breathtaking graphics will not only meet but exceed the needs of industry professionals involved in producing high-quality sign graphics."