Rumney certified for Fogra Digital
Celmac NSW state manager Jonny Rumney has just achieved Fogra DPP (Digital Print Partner) certification, making him one of only two people in Australia and New Zealand that can help Fogra certify a business for the PSD (Process Standard Digital) certification.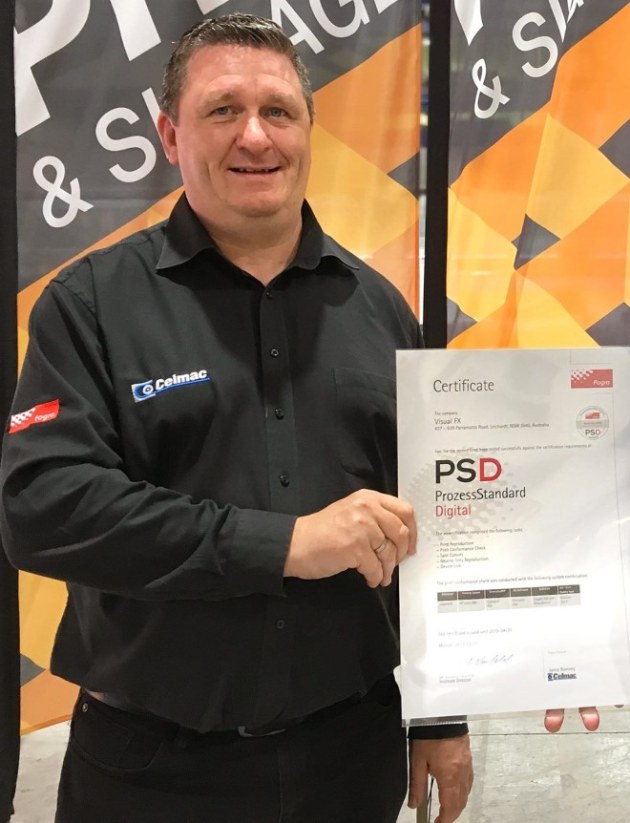 The DPP replaces the previous certification which was DPE (Digital Print Expert). The exam for the certification has to be taken every two years, this time was Rumney's fourth, and the first online thanks to Covid, previously he had travelled to Munich, or took it here when Fogra paid a visit.
Rumney said: "The industry has been crying out for some kind of standard for digital printing for a long time, especially in the wide format space. There has been some great work done with offset with the ISO 12647-2 standard, and some people try and promote that they conform to this standard but it is not possible in the wide format space, as the ISO standard states that you must use a certain colourant offset ink and one of a few offset papers. This is irrelevant to someone wanting to print on self adhesive with a Latex, UV, or Eco Solvent printer. This is why Fogra came up with the PSD standard."
Rumney now uses his certification to work with printers. He said: "We analyse the PDF workflow, viewing conditions, proof setup, rip setup, drift detection for your spectrophotometer, and three print conditions (printer, substrate and ink combinations). It must then conform to a PSD A,B, or C rating. We then submit prints and a report back to Fogra in Munich, and they then verify what I have audited. If it is all good, then the customer gets a PSD Certificate."
Rumney has certified the likes of major print businesses VFX Print Group and Dashing Group.
Explaining the rationale behind a printer going through the process Rumney said, "Fogra has a slogan – Print the Expected. By controlling your workflow, you will have far fewer reprints. When we do the audit, the objective is not to fail the printer, but to work with them to become a better printer.
"The certification lasts two years and if you renew you go through a different process with new challenges. Again the reason for this is for the printer to learn and become a better printer.
"And there are marketing benefits. If you market that you are Fogra PSD, then it is a seal of quality. For instance VFX Print Group shortly after getting their certificate for the first time won a major international clients print work because of this. When you get certified you also get listed on the Fogra website as a certified customer."